Should you wear headphones when you exercise?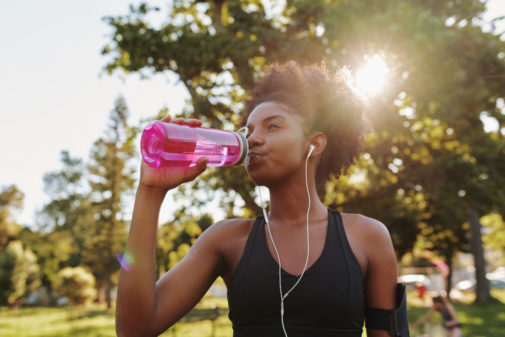 When you exercise, you'll see all sorts of shapes and sizes. We're talking about headphones, of course.
Whether they're two-bit earbuds or a high-end wireless headset, some people can't work out without them. While it's tough to have headphones on during some activities like swimming and yoga, the right playlist can set the tone, keep you going and help you conquer your workout.
But do headphones really affect your performance? They can, says Sue Reynolds Reed, licensed athletic trainer with Aurora Health Care. What you listen to matched with the type of exercise can affect the intensity and success of your workout.
Weight training
Back in the day, boomboxes rattled barbells. Over time, Walkmans and mp3 players gave people more personal space, even though headphone cords easily get caught in equipment. But wireless headphones have changed the game.
When it comes to lifting weights, music has the power to pump you up and push you through that last set. Reed says that music can help you focus and eliminate distractions, potentially helping you to set a new max weight or grind out a grueling routine.
If you lift with headphones on, Reed suggests you set up a playlist a head of time to match your workout type. Also, before any strength training, make sure that your headphones won't affect your range of motion or lifting mechanics.
Cardio – running, cycling and more
Six out of ten runners wear headphones, according to a popular survey. A playlist packed with songs at a tempo that matches your target running cadence can help runners stay on pace. A recent study showed that runners that listen to high-tempo music have a lower perceived level of effort, which allows them to run further and longer.
And quite simply, music can make running more fun and create a healthy habit. The same goes for people that use stationary bikes, stair climbers, rowers or elliptical machines.
However, while headphones might have benefits in the gym, they can create dangerous situations on streets and crosswalks if the volume affects the awareness of riders and joggers to surrounding vehicles and other hazards.
Whether you're outside or in the gym, it's a good idea to throw in a workout, or even part of a workout, without headphones. Unplugging can help you focus on your breathing, stay in tune with your body and improve your mental health to appreciate the world around you.
What's best for me?
In the end, the goal of any exercise regimen is to improve your health and fitness.
Reed says that if headphones help you, then use them to reach new fitness milestones. If headphones reduce your focus or energy level, then go without. It's about what works best for you.
Are you exercising (with or without headphones) to shed some pounds? Find out your ideal weight range by taking this free online quiz.
Read more:
Related Posts
Comments
About the Author
Matt Queen, health enews contributor, is a communication coordinator at Aurora Health Care in Milwaukee. He is a former TV sports anchor and journalist with extensive public relations experience across the health care spectrum. Outside of work, Matt enjoys watching sports (of course), cooking, gardening, golfing and spending time with his wife and two young children.