Health care heroes: Guiding patients through COVID-19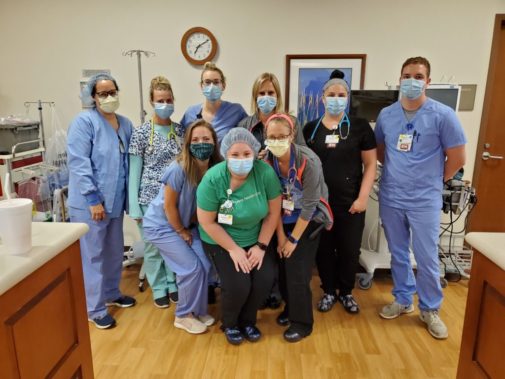 While COVID-19 inpatients are treated in isolation away from family and friends, Aurora team members, like those in at Aurora Medical Center in Grafton, are with them for every step of their journey.
Patients can stay for days, weeks and even months. Some improve and get to go home. Others are not as fortunate and face a long stay in the ICU, or sadly, do not pull through.
For many frontline caregivers, COVID-19 has been an emotional rollercoaster. Kate Geisberger, RN, served six years in the Army National Guard. Her military experience prepared her to handle the daily ups and downs her patients face.
"You have to think on your feet. Things are changing every day, and when these COVID-19 patients decline, they decline fast," said Geisberger.
Despite her mental toughness, the professional and personal strain builds up. She says that in her nine years working in Grafton, nothing compares to this experience. However, there are certain patients that always stick with her, and the positive memories push her to keep going for others.
"I remember in June, there was one patient who was not doing well, but fought back and was doing good enough to go home. We lined the hallway and clapped for him and he was brought to tears. It felt nice to see somebody do good," said Geisberger.
Breanne Foerch, RRT, has spent 10 years at Aurora Medical Center in Grafton. As a respiratory therapist, her experience runs the gamut, from seeing COVID-19 patients in the emergency room to treating those who need ventilators to fight the virus.
"It's so unpredictable because you're with these people, in some cases for months, and you see them everyday struggle just to sit on the edge of the bed. Those are the things that give you hope," said Foerch.
At the beginning of the outbreak, Foerch and her colleagues took on extra 12-hour shifts to make sure that there were enough therapists to help treat the surge in COVID-19 patients. She says that her team came together "like a family" and that they – and the people they care for – are getting through it together for their loved ones at home.
"I see the compassion and care that made me want to go into healthcare. We're all just trying to rise to the occasion, look ahead and give patients the best care possible," said Foerch.
Related Posts
Comments
About the Author
Matt Queen, health enews contributor, is a communication coordinator at Aurora Health Care in Milwaukee. He is a former TV sports anchor and journalist with extensive public relations experience across the health care spectrum. Outside of work, Matt enjoys watching sports (of course), cooking, gardening, golfing and spending time with his wife and two young children.