She moved to help keep her patients and residents safe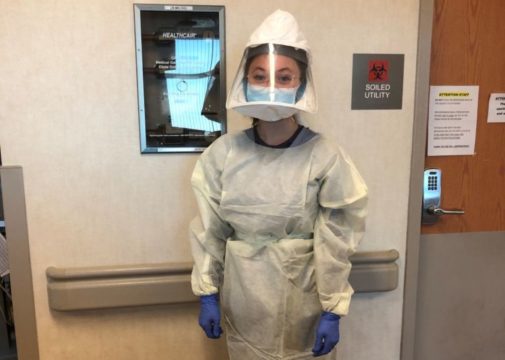 Destiny Gartland is in her first year of nursing. It wasn't long after she finished orientation that everything changed when her unit shifted to caring for coronavirus patients.
As a nurse in the Cardiac Intensive Care Unit at Aurora St. Luke's Medical Center, she's seen many patients since the pandemic began.
Destiny remembers the first COVID patient she had earlier in the year. The woman didn't know she had COVID-19 and needed to be intubated. At the time, no one knew how long that would last.
"She was still able to talk to me and I could tell she was scared," said Gartland. "I didn't know how long she would be intubated, so I called her daughter for her while the doctors were getting PPE on."
The patient was in and out of the CICU for more than a month and needed a ventilator for a long time.
"The family was so grateful I was able to call them that day. It was the last time they were able to hear her voice for a long time," Gartland said.
Caring for COVID patients has been challenging for Gartland as many patients aren't able to see family in person, making the time that nurses spend with them even more important.
In addition to her work as a nurse, Gartland is a manager at a group home in Menomonee Falls for men with intellectual or developmental disabilities. She lived on site and served as the on-call staff member. When she started caring for COVID patients, she decided she had to move.
"It was a lot scarier thinking about the potential of putting the residents there at risk," Gartland said.
She still manages the facility but isn't on site as often to help keep the residents safe. The residents were concerned for her and her teammates, so they made cards with encouraging messages. One resident with autism sent about 10 cards with the message "Get that virus out of here!"
While this time has its challenges, Gartland is grateful for her team members.
"A lot of us are picking up extra hours. Everyone is sharing so many encouraging words and pointing out what others are doing well," said Gartland. "There are a lot more conversations about how people are feeling. It's brought people closer together."
Gartland remembers one COVID patient who got upset while watching news coverage of people refusing to wear masks.
"He was crying saying he didn't understand how people could think that way," said Gartland. "It was heartbreaking to tell him some people don't believe it's real. The reality for him was so straightforward, especially since he was sick, that it was heartbreaking that people wouldn't put the safety of others first."
"I know people are tired and these holidays are going to be difficult, but I think that holidays are always a time for reflection and thinking about others," said Gartland. She asks people to keep doing what they can to keep each other safe.
Related Posts
Comments
About the Author
Ben Hoekstra is a public affairs coordinator with Advocate Aurora Health. He previously worked in marketing and PR for various Milwaukee nonprofits and received his master's degree in Corporate Communications from Marquette University. He enjoys the outdoors, cooking, and all things Milwaukee.