'I'm not a hero. My team is.'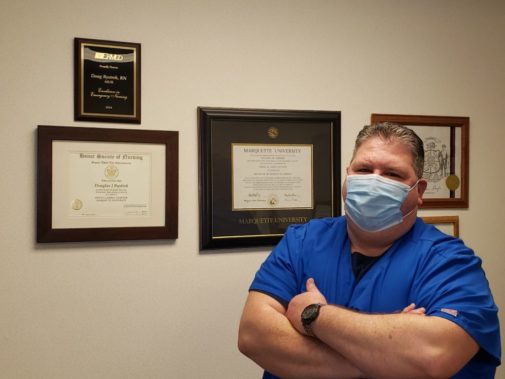 "I'm not a hero, my team is," said Doug Bystrek, patient care manager in the intensive care unit and med surge unit at Aurora Medical Center – Washington County.
Bystrek has managed over 80 nurses and certified nursing assistants at Aurora Washington County for over five years. Before that, he worked as a nurse in the Emergency Departments of Aurora Sinai Medical Center and Aurora St. Luke's Medical Center South Shore. Even with all his years of experience, working with COVID patients has been something completely new.
He's seen his team members go through different stages. Especially at first, there was a lot of fear of caring for COVID patients.
"I had a lot of folks come into my office worried that they couldn't handle it. A lot of them were scared of spreading COVID to their family," said Bystrek.
His team has risen to the occasion. Even as cases and hospitalizations surged around them, the nurses and CNAs in the ICU did everything they could for their patients. Bystrek, for his part, did what he could to take care of them.
"I always say to my team that they don't work for me, I work for them," said Bystrek. "They have overcome so much in this time and don't even recognize it entirely yet. If anything good came out of this, it's that it's built people's resiliency."
Seeing his team members struggle with the emotional burdens of caring for COVID patients has taken its toll on Bystrek. He's often the person they come to when they need to talk through what they're feeling. When he can, he steps in to help in more practical ways, including one particularly hard situation recently.
"There was a patient who was dying of COVID. The nurse had other critical COVID patients she had to take care of, so I stepped in to help," said Bystrek.
He contacted the patient's family and arranged for the patient's wife to come say goodbye.
"The last time the family saw him he was walking and talking. They just thought he needed oxygen and he'd get better," said Bystrek. "The last time his wife saw her husband, he walked into the ED to be admitted. Now he's dying there on the bed."
Bystrek said this story is not new. Many of his team members have witnessed similar goodbyes.
"We see cases like this quite a bit where people weren't supposed to die when they came in here," said Bystrek. "If it weren't for COVID, they'd still be alive."
It can be hard on his team members. Many of them say they feel safe caring for patients at the hospital, but not as much when they leave.
"They know what they need to do, but it comes with an emotional price outside of work when family members don't understand why they can't celebrate a birthday or why they have to socially distance," said Bystrek. "There's this peer pressure."
He is proud of his team members, but he asked the community to make sure to take the pandemic seriously.
"You don't know how it's going to affect you, if you are going to be hospitalized, have the worst flu of your life, or you're going to die," said Bystrek. "It's real. Wear masks, socially distance."
Related Posts
Comments
About the Author
Ben Hoekstra is a public affairs coordinator with Advocate Aurora Health. He previously worked in marketing and PR for various Milwaukee nonprofits and received his master's degree in Corporate Communications from Marquette University. He enjoys the outdoors, cooking, and all things Milwaukee.