'When I take care of my patients, I think of them as my friends'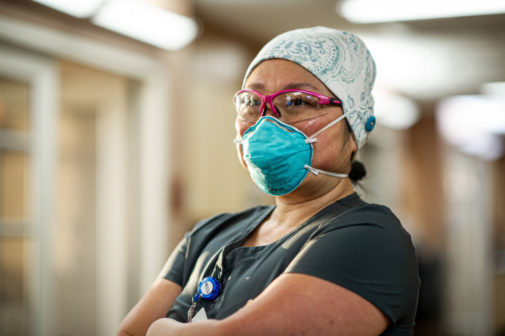 For the six years she has served as a nurse, Seung Kapusta has always felt a deep connection to her coworkers and serving her community through her work.
Kapusta took over running several family businesses after suddenly losing her father in 2007. Helping manage the family businesses, running her own business as a massage therapist and caring for a newborn baby was a lot to juggle. When the recession hit in 2008, the family businesses struggled and they were forced to close or sell several of them. She hit pause for a few years as she raised her two children.
When she decided to look for something steadier, Kapusta looked to the role model of her mother-in-law who worked as a nurse at Aurora St. Luke's Medical Center. Kapusta started as a phlebotomist and worked her way towards becoming a nurse in the MRICU at St. Luke's. Even after six years of nursing experience, caring for COVID patients has been especially tough.
"It's been difficult. Being the only conduit between the family and the patient can be emotionally stressful," said Kapusta. "There are days where you wonder if this is ever going to end. You feel some hopelessness. Some days, you have to cry it out. Some days, you go in feeling like you're Superman and you can conquer the world."
There have been times the pandemic has hit particularly close to home. Kapusta even had a family friend admitted to the MRICU with serious COVID complications.
"I didn't recognize him at first because I haven't seen him in a few months," she said. "I thought he was going to die. It was hard to see him in that situation. Miraculously, he survived and he was able to go back home."
The experience of seeing someone she was close in the MRICU left a mark on Kapusta.
"To hear his voice afterwards and him thanking me and my team, that definitely put things in perspective," she said. "When I take care of my patients, I think of them as my friend and how they would want to be treated."
Outside of work, Kapusta juggles helping her kids with remote learning and tries to find ways to relax and think about something else.
"I find things that can distract me. I've been keeping a journal about my day to day. I get into my crafts, into macramé and into crocheting," she said. "My husband would say I'm always doing some kind of craft, even if I don't finish it, because it helps distract me."
Her team has been an important support system for Kapusta. They're the people she goes to on days that are particularly hard.
"We rely on each other. We've had chaplains come in and talk to the staff. We've had chair massagers which were amazing," the former massage therapist added. "We've found ways to connect with each other, too. I created a cookbook with recipes from our team and some pictures of the group. Our team's love for food has never wavered."
Related Posts
Comments
About the Author
Ben Hoekstra is a public affairs coordinator with Advocate Aurora Health. He previously worked in marketing and PR for various Milwaukee nonprofits and received his master's degree in Corporate Communications from Marquette University. He enjoys the outdoors, cooking, and all things Milwaukee.