Finding alternatives to screens during the long, cold winter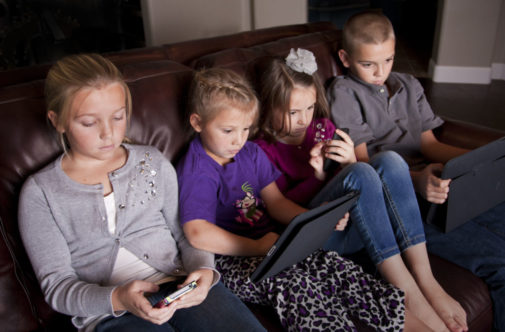 Winter can be a hard time to get your kids away from screens – televisions, game consoles, tablets or phones. Cold weather can keep you indoors, and boredom can cause problems that might be most easily solved by putting on a child's favorite show or letting them play a game on a cell phone.
How much screen time is too much for kids? The American Academy of Pediatrics has recommendations to help guide parents. The group recommends that:
Children younger than 18 months have no screen time.
Those age 18-24 months watch limited high-quality programming and parents watch with children to help children understand what they are watching.
Children age 2 to 5 years can be allowed to have up to an hour a day of high-quality programming, again with parents watching to help them apply what they are watching to their lives.
Children age 6 and older have consistent limits on time spent using media and the types of media, ensuring that screen time doesn't crowd out physical activity or quality sleep.
One key issue is that children, especially infants and toddlers, might not grasp that the screen is not talking back to them. Children learn important life skills like impulse control, task persistence and creative thinking through unstructured social play, including parent-child interaction, rather than passive viewing of a screen.
One of the best ways for parents to establish screen time limits for children is to set a good example, being sure to disconnect and engage with children. Winter can present some challenges, but there are opportunities for screen-free time in winter, as well.
Of course, if the weather is mild enough, layering up and going outdoors for a walk or a hike can be a great alternative. If it's snowy, sledding can be a great outdoor activity.
If going outdoors is not in the cards, age-appropriate board games and card games can present good opportunities for learning and interacting. You can help a child learn how to find his or her way around the kitchen using relatively simple age-appropriate recipes that can also be found online.
Art and crafts are also an option. Trips to museums and libraries are also fun and even can be economical with winter break specials and free days.
Basic in-home science experiments, like Milk Art with milk and food coloring, and Orange Fizz, a yummy snack of a science experiment, could be fun to do, and may help encourage a love of STEM fields.
And when it's too cold, reading in a blanket fort is a great way to pass the screen-free time.
An important part of finding a healthy level of screen time is for parents to designate technology-free times, like during family dinners, as well as device-free locations, like not allowing children to keep devices in their bedrooms – especially overnight.
It can be hard to enforce, but it helps your children in the long run. School-age children and adolescents who have more screen time often struggle with obesity and poor-quality sleep.
Dr. Nicholas Pryomski is an Aurora Health Care pediatrician at Mount Pleasant Spring Street clinic.
Learn more:
Related Posts
Comments
About the Author
Nick Pryomski, MD, is a family medicine physician at Aurora Health Center in Racine, WI.