"I've never been more proud to be in this profession"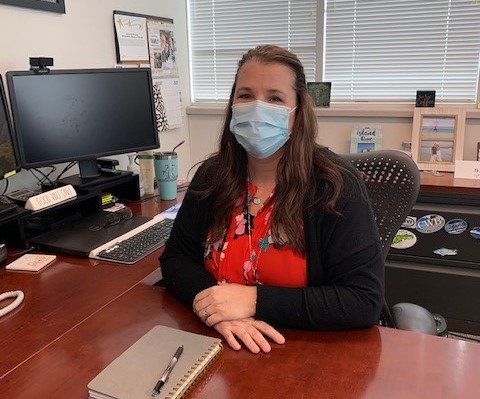 The Urgent Care departments at Aurora Health Centers in Plymouth and Sheboygan were often the first to see potential COVID patients. Melissa Reinke, Manager of Clinic Operations, saw both clinics rise to the challenge as her team pivoted to safely care for patients—whether they were suspected of being COVID-positive or not.
"There were days that it was just complete survival mode. We had to quickly pivot to keep seeing our patients safely," said Reinke. "Urgent care was the only place that could see potentially COVID-positive patients. We had to create separate areas to see those people."
Reinke is used to challenges. Before she managed the Plymouth clinic, Reinke spent much of her career in the Emergency Department. Learning to function in a fast-paced environment helped her adapt to her role now.
"My job is to make sure my team has the tools and support to do their job," said Reinke. "It's very important they are getting the PPE they need and have everything they need to stay safe to see our patients and keep our safe care promise. We need to make sure our team members are taken care of."
To make sure her team has what they need, Reinke often helps in more hands-on ways. She filled in during drive-through testing, helped put patients in rooms and even assisted in running the flu clinic one night.
"It's become my mantra since this hit," she said. "You have to roll with the punches."
Reinke became a nurse later in life, but she's always felt the pull to health care. When she was in high school, she worked as a CNA at the same nursing home her grandmother stayed. After a night shift, they would eat breakfast together and talk.
"She would talk about how I was going to make a great nurse," said Reinke. "Truly, I think she had the biggest impact on me to go back into nursing."
The pandemic has been especially hard for the urgent care team. Stress levels are high and having to split staff between possible COVID patients and others meant they consistently felt stretched.
"They took one for the team a lot," said Reinke. "They've come through it. They roll up their sleeves, jump on it and are ready to roll. I've never been more proud to be in this profession than I am now."
Reinke is confident in the work she and her team have done to make sure patients can still seek care safely in the Urgent Care as well as seeing their primary care physicians.
"Don't be afraid to seek medical care for any health care needs," she said. "Absolutely wear your mask and follow the guidelines, but don't be afraid to come in to see medical care."
Click here for more stories about doctors, nurses and others working on the front lines.
Related Posts
Comments
About the Author
Ben Hoekstra is a public affairs coordinator with Advocate Aurora Health. He previously worked in marketing and PR for various Milwaukee nonprofits and received his master's degree in Corporate Communications from Marquette University. He enjoys the outdoors, cooking, and all things Milwaukee.