What should dating during COVID-19 look like?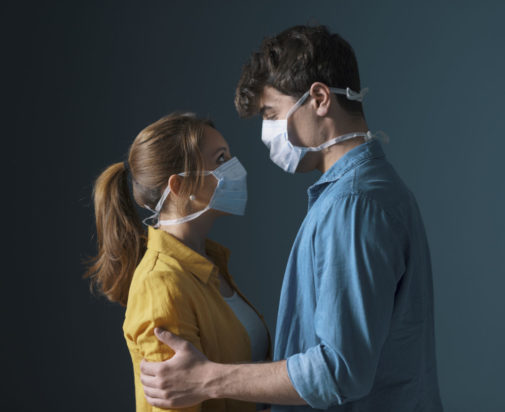 The dating scene may not feel like much of a "scene" during COVID-19. Between socially distancing, wearing a mask in public and limiting in-person interactions, meeting people looks much different than it did pre-pandemic. The good news is it's still possible.
Dr. Sarah Katula, an advanced practice nurse in child/adolescent psychiatry at Advocate Good Samaritan Hospital in Downers Grove, IL offers tips for dating virtually for both teens and adults.
"With teens, parents should employ basic online safety rules and educate them about staying safe," she says. "This includes making sure kids keep you informed of what they're doing online."
If you're going to let your teen date virtually, she recommends setting parameters.
"Is your teen only to be dating someone in the neighborhood? Are you going to allow them to 'date' online from their bedroom, and does the door need to be open? Do you want to be hands on?"
You may be wondering what that looks like, since it can be hard to get teens to open up.
"You can ask to see photos of who your teen wants to talk to. Another way to try breaking the ice is to play a game called 'Who Do You Want to Be With?' This is a great way to facilitate conversations and define values when it comes to what someone is looking for in a partner.
No matter the age of the "dater," Dr. Katula stresses one thing – avoid keeping things too private. "Normally, dates are in public settings. With virtual dating, safety is not the same. Teens should be keeping parents informed about their online activity, and adults should let someone know who they're interacting with, as well. Just like how parents are aware when their teen is on a date in person or how most people let someone know when they're headed out on a date, that communication should continue even with virtual dating."
She offers these tips for connecting with people:
Never provide your address or phone number right away. You can talk within dating apps. Don't give personal identifying information until you are comfortable.
Avoid solely communicating through typing. If you find you're enjoying someone's company, consider connecting via Zoom. You want to make sure someone is who you think they are.
If you're strictly dating virtually, make that clear. Many dating apps offer the option to denote this on your profile. Managing expectations is always important in relationships.
If you're meeting someone in person, remember to share details with others. Meet in a public setting, avoiding secluded places. Set rules for yourself and stick to them (are you going to valet park? If 21 or older, are you going to drink? If so, how much?) If you let loose of the rules you set for yourself, something could go wrong.
"The big things are to practice safety and remember that dating is just that," says Dr. Katula. "You're gathering data to see if the person you're connecting with is someone worth your time, energy and eventual devotion. Be yourself, be honest and practice asking for what you want. That's why we date. It's an opportunity for us to grow as individuals, and if we're lucky, find a partner."
Related Posts
Comments
About the Author
Holly Brenza, health enews contributor, is the public affairs coordinator at Advocate Children's Hospital. She is a graduate of the University of Illinois at Chicago. In her free time, Holly enjoys reading, watching the White Sox and Blackhawks, playing with her dog, Bear and running her cats' Instagram account, @strangefurthings.