From the football field to the ICU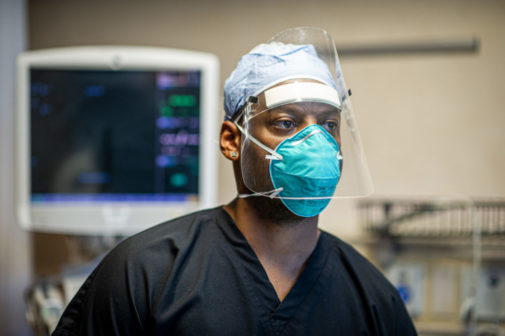 Being an athlete his whole life, Malcolm Bowers knows what it's like to pitch in for a team. Every member has their role—without any one person, the job doesn't get done. Whether that's helping someone with a patient, watching out to make sure everyone's PPE is correct or going the extra mile to make sure a patient isn't alone, Bowers is up for it.
He returned to his role as a Certified Nursing Assistant in the Medical Respiratory Intensive Care Unit of Aurora St. Luke's Medical Center right as the pandemic began. The transition back from parental leave into the midst of caring for COVID patients was a bit of a shock. Through it all, his focus was on how he could impact those around him.
"Anything I can do to make my team's day go smoother and help the patient is what I do," said Bowers. "We double up as a patient's visitor and their caregiver. We have to be there for them. We do anything we can to make them smile."
Bowers remembers one COVID patient that he clicked with instantly. The two got along like they had known each other for years—which made losing her even harder.
"She was starting to feel like family," Bowers said. "I was off for a few days and when I came back, I found out she was no longer living."
The pandemic has taken a toll on Bowers and his team. They do what they can to support each other, listening to each other and always being willing to answer questions. The amount of knowledge on his unit has always been something Bowers appreciates, especially in all the uncertainty of COVID.
He does what he can to care for his own mental health. Going for walks on nice days with his girlfriend and son near McKinley Marina, sledding near Bradford Beach and keeping up his workout routine have all been a big part of how Bowers keeps going.
"This whole thing has taught us how important it is to care for others around you and care for yourself," he said. "Mental health used to be a taboo topic. People don't want to say they need help. You never know what someone else is going through."
Click here for more stories about doctors, nurses and others working on the front lines.
Related Posts
Comments
About the Author
Ben Hoekstra is a public affairs coordinator with Advocate Health Care and Aurora Health Care. He previously worked in marketing and PR for various Milwaukee nonprofits and received his master's degree in Corporate Communications from Marquette University. He enjoys the outdoors, cooking, and all things Milwaukee.