How to cope with change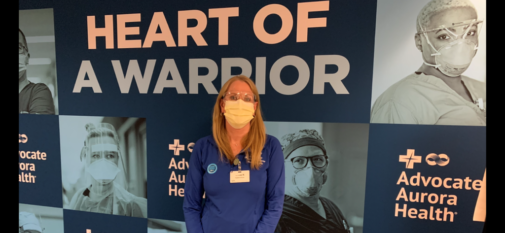 Change can be exciting, but for many, the anxiety and stress that can accompany change is simply not worth the mental sacrifice.
And whether we liked it or not, we've all been subjected to a year of significant and often challenging changes. Registered nurse Nancee Rysticken was no exception.
"My favorite thing about my job is the diversity of my job roles and the different ways I come into contact with patients," says Rysticken, who has been a nurse at Aurora Medical Center in Manitowoc County, Wis., for over 25 years. From being a casual nurse in the surgery department to a surgical scheduler to a lead vaccinator at the Manitowoc County COVID-19 vaccine clinic, among several various other roles, Rysticken has found that approaching change with an open-minded attitude is key.
"I am always looking for a challenge and to learn new things," she says. "The nurses and staff members I have gotten to work with throughout the hospital is overwhelming. They are all amazing people to work with, and I am so lucky to have this opportunity."
When it comes to change, some other coping strategies include:
Eating healthy. During stressful periods, it can be tempting to reach for comfort junk foods, but it's important to feed your brain serotonin-supporting nutrients (found in foods like salmon, nuts and seeds, turkey, and eggs) from a well-balanced diet.
Working out releases endorphins, which help to boost your mood.
If something doesn't give you joy, take a break from it, if you can. Social media and TV show bingeing can be a good source of entertainment and distraction, but if you find your mood sours after indulging, it may be time to take a break.
Talk about it. Simply calling a friend to vent or seeking help from a therapist can be excellent ways of working through a life change or pain point. Just be careful to keep the conversations productive and moving toward emotional health.
For Rysticken, she finds she is able to accept change easier with the help of her family, friends, and various activities, like exercise, bonfires, puzzles, board games, house projects, and cooking. And she also gets by with hope and trust in the COVID-19 vaccine.
"I am fully vaccinated," she says. "If I want things to get back to normal and to keep the members in my community and my patients safe, this is the best thing I can do."
Click here for more stories about doctors, nurses and others working on the front lines.
Related Posts
Comments
About the Author
Brianna Wunsch, health enews contributor, is a public affairs coordinator for Advocate Aurora Health with a BA in public affairs from University of Wisconsin - Green Bay. In her free time, Brianna enjoys living an active lifestyle through biking, hiking and working out at the gym, but even more than that, she especially loves spending quality time with her two cats (Arthur and Loki), son and husband.