Seeing COVID from both sides of the glass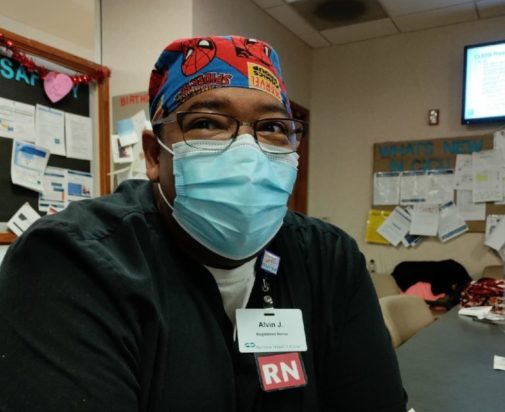 Alvin Jackson knows what it's like to be on both sides of the glass when it comes to COVID. Jackson is a nurse in the Coronary ICU at Aurora St. Luke's Medical Center. In the worst moments of the COVID surge, his unit transformed to care for COVID patients. He witnessed firsthand how much it impacted his patients.
However, nothing could have prepared Jackson for what happened later—he got COVID himself. His case became so severe that he was in the hospital for eight days. The experience made him empathize with his patients even more.
"I remember watching football to pass the time and keep my mind off not being able to breath so well. Taking a breath felt like my lungs were tearing," said Jackson. "Being hospitalized gave me a unique perspective of what patients go through and some of the symptoms they could experience as well. It was an eye-opening revelation."
Jackson isn't new to health care. He has spent over 30 years at Aurora St. Luke's, over 20 of which were in the ICU. His mom and sister both worked as nurses—Jackson found the one-on-one patient care and education he got to do as a nurse was a perfect fit. Even with all his experience, caring for COVID patients has stretched him in more ways than ever before, especially emotionally.
"A piece of you feels what they feel. It's heart-wrenching," said Jackson. "Seeing people in their 30s, 40s, and 50s who are passing away from this was very difficult. It's hard to see someone die in front of you and have to move on and help someone else."
His team has made all the difference during the pandemic. Jackson and his coworkers are a tight-knit group. They know each other's families and ask about how kids and spouses are doing. Jackson has his own way of coping with the stress—comedy. Joking around with coworkers has been one way to keep their spirits up.
"You have to learn to laugh. We have a bad joke of the day," said Jackson.
Jackson was recently able to get his second dose of the COVID vaccine. The process was smooth, and—for Jackson—a source of relief. He's especially excited for his family and the community to get it.
"The vaccine isn't for me, it's looking out for other people," said Jackson. "Get the shot. Protect other people."
Click here for more stories about doctors, nurses and others working on the front lines.
Related Posts
Comments
About the Author
Ben Hoekstra is a public affairs coordinator with Advocate Aurora Health. He previously worked in marketing and PR for various Milwaukee nonprofits and received his master's degree in Corporate Communications from Marquette University. He enjoys the outdoors, cooking, and all things Milwaukee.