Staying upbeat during COVID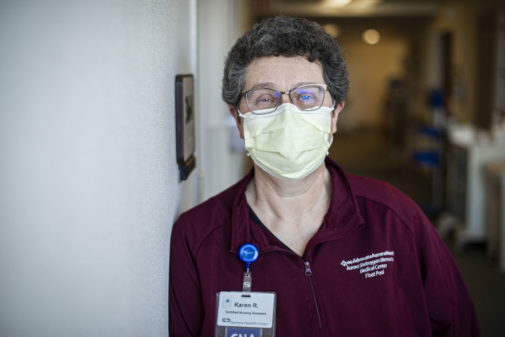 Karen Regan always wanted to do two things: become a cook and work as some kind of a nurse. Her career has ranged from time as a cook to working as an EMT firefighter. For the last 27 years, she's had the chance to fulfill the second part of her dream—working in health care as a CNA at Aurora Sheboygan Memorial Medical Center. Regan enjoys getting to work with patients, but nothing in her career prepared her for working on a COVID unit.
"The work is more intense. I haven't had a person pass away my whole career as much as I have this year," said Regan. "It's hard watching those that do pass away and to see the families watch them pass away."
She's picked up extra shifts to help out. Typically, she floats to different units, but for several months she's helped on the cardiac unit with COVID patients. Seeing what families and patients go through has been hard.
"You get emotionally attached to people. They are so sweet and so innocent. It shouldn't have happened to them," said Regan. "You feel so bad for them losing a family member like that. You've done everything you possibly can and you still can't help them."
Regan feels a connection to those families who can't see their loved ones right now, even when they are sick. She used to visit her mom every week, but the assisted living facility her mom lives in has been under quarantine since earlier in the year.
"That's been hard because I used to go visit her at least once a week," she said. "I know it hasn't just been me but so many other families who can't visit. It's hard on the families."
When she needs to decompress, Regan goes fishing. She enjoys the peace and quiet. When she's not out on the water, she likes to paint cement lawn ornaments for family and friends, including animals and Wisconsin Badger décor.
In the midst of challenges, Regan said she's seen her team pull together and take care of each other.
"Sometimes you see someone about ready to break down and you have to go give them a hug. Everybody seems to be working more as a team and tries to keep an upbeat attitude and stay positive," she said. "The other day I went to work wearing reindeer on my head. You try to lighten up the situation and do the best that you can."
Click here for more stories about doctors, nurses and others working on the front lines.
Related Posts
Comments
About the Author
Ben Hoekstra is a public affairs coordinator with Advocate Aurora Health. He previously worked in marketing and PR for various Milwaukee nonprofits and received his master's degree in Corporate Communications from Marquette University. He enjoys the outdoors, cooking, and all things Milwaukee.