Your feet can show early signs of diabetes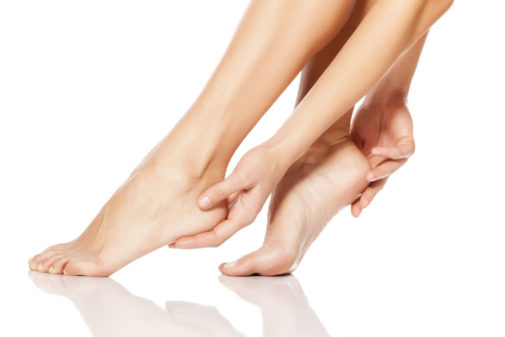 The first signs of diabetes may arise in your feet.
A tingling, burning, numbness or pain in the hands and feet, a condition known as neuropathy, can be one of the early signs of diabetes. The loss of feeling hot, cold or pain can make it difficult to feel injury. Diabetic neuropathy is a disorder of the nerves in the feet caused by elevated levels of blood sugar.
"The number of leg amputations is high, and most can be prevented by good education," says Dr. Fred Rahimi, a podiatric surgeon at Advocate Lutheran General Hospital in Park Ridge, Ill. "Whether you are diabetic or not, check your feet daily, wear shoes that fit, beware of corns and calluses or wounds that don't heal and most importantly, get your feet checked at every health care visit."
A proper diet, exercise, medical care and management can help people with diabetes live a healthy and full life. Podiatrists are key in helping patients manage their diabetes and can help avoid complications including amputation.
"Neuropathy is just one condition that affects people with diabetes, and it's irreversible," says Dr. Rahimi. "Well controlled blood sugar can help with the severity of neuropathy. Diabetes most commonly affects people between the ages of 40 and 90, and approximately 30% of the population is diabetic."
When to see a doctor
Schedule a visit with your doctor if you have the following:
A cut, blister, corn or ingrown toenail on your foot that is infected or won't heal
Tingling, burning, numbness or pain in your hands or feet
Fungus infections
Cramping in thighs or calves
These signs and symptoms may not always indicate you have diabetes or that your diabetes has worsened, but they can be a sign that requires medical treatment. Early diagnosis and treatment can prevent serious complications.
Want to learn more about your risk for diabetes? Take a free health risk assessment by clicking here.
Related Posts
Comments
About the Author
Neda Veselinovic, health enews contributor, is a public affairs coordinator at Advocate Lutheran General Hospital. She has more than five years of public relations experience and most recently worked with clients in the travel and hospitality industries. She prefers to spend her time with a cup of coffee and a good read and always welcomes book recommendations.