Here's how many calories you should be eating each day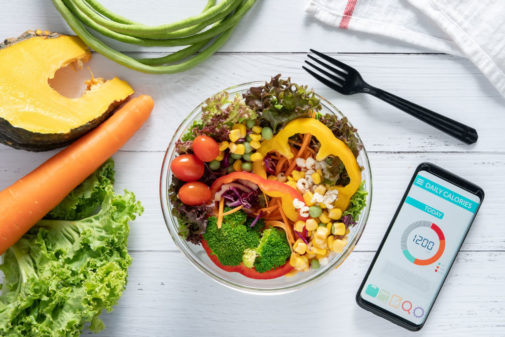 Look online, open a magazine or walk down the aisle of a bookstore and you will find a variety of different diet fads and tips on how to lose weight. But instead of following the flavor of the day, experts say the key to living a healthier life is to pick a few tips and stick to them.
Rachel Miller, a registered dietician at Aurora Health Center in Sheboygan, said picking one or two achievable and specific goals will make an improvement to your current eating and activity pattern. For example, if you choose to start eating a vegetable with lunch or dinner daily, develop a plan on how to accomplish the goal, like making a list of vegetables you like or having a shopping list.
"Evaluate and build on those goals every one to two weeks. Remember, developing healthy eating habits is not about perfection, it's about persistence," said Miller.
Accurately recording what you're eating is important to get an accurate estimate of your calorie intake, she said. There are several options to help you track your caloric intake, like keeping written food records or using various apps to help with tracking.
Each person's calorie requirements vary, but weight and physical activity are two main factors that determine an individual's calorie needs. Additional factors include age, gender, medical conditions and metabolism. Adults typically need approximately 13 to 15 calories per pound to maintain a healthy weight, Miller said.
"To provide our bodies with all the nutrients we need to live well, where the calories we eat come from should be a major focus," said Miller.
Eating a variety of nutrient dense foods from all food groups in the recommended amounts will help meet nutrient needs within calorie requirements. Miller suggests using the USDA My Plate website to help develop a healthy meal pattern.
"Another great resource are the Advocate Aurora Health dietician nutritionists who will work with you on developing an individualized meal pattern to accomplish your nutrition goals," she says.
People should talk to their healthcare provider for a medical nutrition therapy referral to see a nutrition expert.
Are you trying to find a doctor? Look here if you live in Illinois. Look here if you live in Wisconsin.
Related Posts
Comments
About the Author
Brittany Lewis is a media relations coordinator at Advocate Aurora Health. She previously worked as a reporter at TV stations around the Midwest, including Milwaukee. She studied at DePaul University where she majored in Journalism and Public Relations. Brittany enjoys traveling, hanging out by Lake Michigan, trying new restaurants and spending time with friends and family.