How listening to a cry for help saved a life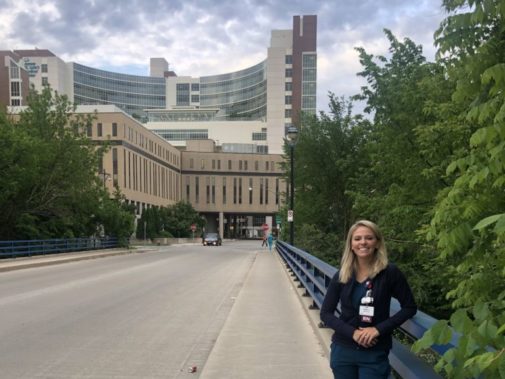 She just wanted the pain to go away. But it wasn't physical. This visitor was suffering from a broken heart caused by the death of a brother. On a recent Sunday, she came to Aurora St. Luke's to see him, even though he died at St. Luke's months ago.
She didn't know why she was there, and she didn't want to live anymore.
It's not every day that somebody confides something so personal to a total stranger. But Bailey Jedrzejewski, a cardiac medical-surgical nurse working the COVID screening table at the hospital's main entrance, met the visitor at their crossroads.
"This person was the same age as me," said Jedrzejewski.  "I said 'let me get you some help,' because they needed it."
Jedrzejewski walked the visitor to the ER and got the nurse up to speed on the situation. All the while, she continued to talk and listen to the visitor. The person had not been home for two days and had not taken their medication to treat their anxiety and depression.
As the visitor was being taken back to a bay, Bailey continued to remind her, "It will all be OK. I am glad you are here."
And that was it. The two didn't see each other again. But that brief interaction may have saved someone's life.
"Bailey made me so proud of her," said Lisa Bigelow-Downing, Jedrzejewski's medical-surgical manager. "She takes the time to critically think about all of the patients she cares for and then takes action."
 Some people have that special gift to save others in ways that go beyond medicine. And Bailey now knows that she has it.
"It was really moving, because I could tell I did something really powerful that day," said Jedrzejewski.
Click here for more stories about doctors, nurses and others working on the front lines.
Related Posts
Comments
About the Author
Matt Queen, health enews contributor, is a communication coordinator at Aurora Health Care in Milwaukee. He is a former TV sports anchor and journalist with extensive public relations experience across the health care spectrum. Outside of work, Matt enjoys watching sports (of course), cooking, gardening, golfing and spending time with his wife and two young children.