Full FDA approval for the Pfizer-BioNTech COVID-19 vaccine is here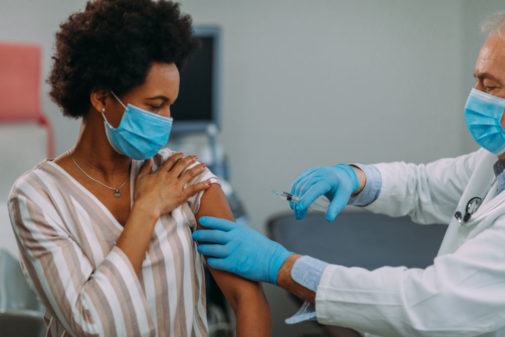 The U.S. Food and Drug Administration granted full approval Monday to the Pfizer-BioNTech COVID-19 vaccine for people 16 and older. Until now, the vaccine had been distributed in the United States since December under an emergency use authorization.
The full approval should encourage more Americans to get vaccinated, Dr. Robert Citronberg, executive medical director of infectious disease and prevention for Advocate Aurora Health, told ABC-7 Monday.
"For people who have been on the fence, this is a great day," Dr. Citronberg says. "Hopefully this information will give them a sense of confidence to get vaccinated as soon as possible."
Pfizer's application included data showing its vaccine is 91% effective at preventing COVID-19 infection. In a statement, the FDA said its review included data from approximately 44,000 people.
"The public can be very confident that this vaccine meets the high standards for safety, effectiveness, and manufacturing quality the FDA requires," Dr. Janet Woodcock, acting FDA commissioner, said in a press release. She noted the vaccine had already met rigorous standards for emergency use authorization.
Dr. Citronberg reiterates the very safe nature of the Pfizer vaccine and the similar Moderna vaccine, both of which use mRNA technology. Since emergency use authorization was granted, more than 350 million Pfizer and Moderna shots have been administered, according to data compiled by the Centers for Disease Control and Prevention.
"We have a tremendous data set that shows these vaccines are extremely effective and extremely safe," he says.
While no vaccine is completely risk-free, Dr. Citronberg explains that people must consider the relative risk of vaccination versus risks posed from the virus.
"Vaccination is far, far safer than getting COVID-19," he says. "The single most important thing to consider is that about 95% of patients with COVID-19 in American hospitals today are unvaccinated. The vaccines are extremely effective at preventing serious illness, hospitalization and death."
Dr. Citronberg says he expects full FDA approval for the Moderna vaccine to come in September. Moderna submitted its application for approval three weeks after Pfizer did.
The Pfizer vaccine continues to be authorized for emergency use for children ages 12 to 15.
Check out our COVID-19 Info Center to learn more about the virus.
Related Posts
Comments
About the Author
Brigid Sweeney, health enews contributor, is a media relations manager for Advocate Aurora Health. Previously, she reported for Crain's Chicago Business.