Robotic bronchoscopy takes deep tissue samples for early detection of lung cancer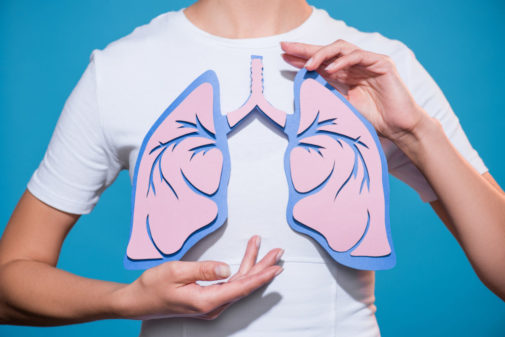 Using a navigational robotic-assisted bronchoscopy procedure, the doctors at Aurora Medical Center – Kenosha can now perform minimally invasive biopsies in the lung to detect cancer earlier.
Lung cancer is the leading cause of cancer deaths. About one in 15 men and one in 17 women will get lung cancer, according to the American Cancer Society (ACS). Lung cancer is the third most common cancer, after skin cancer, prostate cancer (men) and breast cancer (women).
When diagnosed at the earliest stage, known as stage IA-1, the average 5-year survival rate is 92 percent. Unfortunately, early stage lung cancer usually doesn't produce symptoms until it progresses – and then it's more difficult to treat. That's why getting a lung cancer screening scan can be life-saving.
The new navigational robotic-assisted bronchoscopy system helps obtain samples from small lung lesions, which are hard-to-reach with existing modalities. This allows for a clear diagnosis at the earlier stage, according to Pulmonary Disease Specialists Dr. Abdul Hamid Alraiyes and Dr. Hasnain Bawaadam, lead physicians on the new technology.
"Ion enables physicians to obtain tissue samples from deep within the lung, addressing the most challenging aspect of lung biopsy. With the deep lung samples, patients may avoid having to get additional biopsies down the road," said Dr. Bawaadam. "It's not uncommon for patients who have a nodule detected through standard lung scanning are advised to take a 'watchful waiting' course of action. With this diagnostic tool, now they can get answers."
"Lung cancer screening is the key for detecting early small lung lesions. When those small lung spots are found on the screening scans, the new navigational robotic-assisted bronchoscopy enables us to target them with high yield diagnosis, and with fewer adverse effects," said Dr. Alraiyes.
Causes and risk factors for lung cancer from the American Cancer Society (ACS)
 Despite a decrease in cases due to less smoking, lung cancer remains the most common cause of death from cancer in both men and women. Smoking is most often the cause.
About 236,000 cases of lung cancer are diagnosed every year—and smoking contributes to the cause in about 80 percent of these cases.
Risk increases with the number of years and the number of cigarettes you smoke. Cigar and pipe smoking poses only slightly less of a risk than cigarette smoking.
Secondhand smoke from tobacco is also a risk and may cause about 7,000 lung cancers each year.
Screening & Diagnosis
Quick, easy, low-dose CT scans are safe, painless, and more likely to find smaller abnormalities than a standard chest X-ray – reducing the risk of lung cancer death by up to 20% compared to X-rays.
Who should get lung cancer screening? People between 55 and 77 should get screened, even if no symptoms are present, Dr. Alraiyes said. It may also be the right time for current and former smokers who smoked at least a pack a day for 30 years or more – even those who quit within the last 15 years.
Want to learn more about your risk for lung cancer? Take a free online quiz to learn more.
Related Posts
Comments
About the Author
Annette Guye-Kordus is a public affairs coordinator with Advocate Health Care and Aurora Health Care.