Caring for others and celebrating her heritage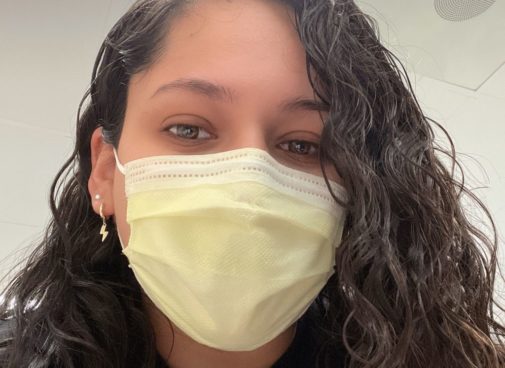 Even at a young age, Karina Benitez, phlebotomist at Aurora Medical Center – Washington County, knew she wanted to pursue a career in medicine.
"I like working with people," says Benitez. "I always played the doctor when I was little and have always liked the medical field."
Her family moved from Mexico to Wisconsin, and her culture was an important part of her upbringing. She highlighted that every state has its own unique traditions, which are reflected in dances and clothing, and she fondly remembers the times in middle school and high school when she celebrated Mexican Independence Day, including when she was chosen to carry the Mexican flag as part of the festivities.
Her love of medicine began in high school when she started taking pre-med classes and found herself enjoying blood draws. After becoming a certified nursing assistant, she further studied to become a phlebotomist, and now she interacts daily with patients in the laboratory to draw blood samples and perform tests to help get a better understand of their health.
A big part of her job is making patients feel comfortable, which can include speaking Spanish with them. Benitez says patients who speak to her in their native language often talk more and ask her more questions in the lab. She's encouraged by all the people of Hispanic heritage working in the medical field and enjoys forming bonds and connections with her colleagues and patients because of their shared culture.
"Some patients comment about how nice it is to see more people with Mexican or Hispanic heritage working in the medical field," says Benitez. "I can tell that they feel more comfortable. It impacts care because patients ask more questions about the tests I'm performing, what different tubes are for, and more questions about health care."
Related Posts
Comments
About the Author
"Hannah Koerner is a Public Affairs Specialist with Advocate Aurora Health. She received her Bachelor of Arts in Communication from the University of Wisconsin – Green Bay. In her free time, she enjoys biking, snowshoeing, and cheering on Wisconsin sports teams."