How to prep a better lunch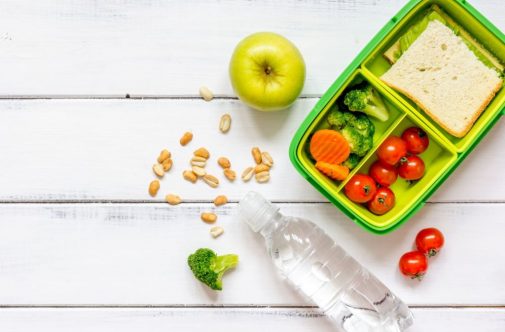 Mornings can be hectic, but it can help to plan ahead. That means taking some time to plan what healthy snacks and lunches look like for your family.
Joci Schumann, a registered dietitian with the Healthy Active Living Program at Advocate Children's Hospital in Oak Lawn, Ill., says meals should include whole grains, fruits, vegetables, protein and healthy fats.
"All of these food groups work together to give kids quick energy and help them feel full and satisfied until the next meal or snack," says Schumann.
For lunch, try a ham, cheese and avocado sandwich on whole-grain bread with cucumbers, baby carrots, celery and an apple on the side or a salad with green leafy lettuce, vegetables, hard-boiled egg, croutons, Italian dressing and berries on the side. Healthy snacks should combine protein and produce, resulting in high-fiber options that take longer to digest, sustain kids' energy and help them feel full longer.
"Examples of snacks include a hard-boiled egg and baby carrots, cucumber sticks with deli meat wrapped around them, string cheese and strawberries or an apple with peanut butter," says Schumann.
She recommends avoiding grain-based snacks, which provide immediate energy, but because they're digested so quickly, won't keep kids satisfied. Cereal or bars are easy to pack, but they can be high in carbohydrates and sugars and low in fiber, making them a less ideal choice.
Want to pack healthy lunches and snacks for your family? Schumann and Dr. Jeremy Daigle, who leads the Healthy Active Living Program in Oak Lawn, encourage parents to make eating healthy and spending time in the kitchen fun with these simple tips:
Meal prep: Schumann recommends prepping parts of your meals over the weekend. Simply making hard-boiled eggs, washing and cutting fruits and vegetables or putting chicken in the crockpot allows parents to have healthy ingredients at their fingertips when hunger strikes. "The goal is to make healthy options just as easy to grab and eat as opening a bag of chips," says Schumann.
Involve kids in the kitchen (ages 2 and up): Helping in the kitchen can reduce fears associated with trying new foods. When kids feel like they've had a hand in the preparation, they're also more likely to try something new. "Make meal prep a fun family activity," says Dr. Daigle. "It will build trust and give children confidence to try new things."
Be mindful of how you talk about food: Dr. Daigle says it's pertinent to be mindful of what's being said to encourage new and healthy habits. "Instead of saying, Eat that for me, or, That didn't taste so bad, did it? when kids try new foods, ask them, Do you like that? or, Which is your favorite?" says Dr. Daigle. "These types of questions focus more on what kids like about food and what tastes good as opposed to teaching them to eat for approval or battling over who was right about taste."
Read more:
Are you trying to watch your weight? Take a free online quiz to learn more about your healthy weight range here. 
Related Posts
Comments
About the Author
health enews staff is a group of experienced writers from our Advocate Aurora Health sites, which also includes freelance or intern writers.