Is cash dirty?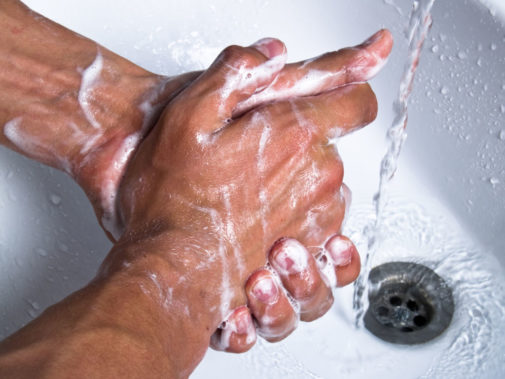 Whether or not you regularly physically handle cash, you've probably wondered how dirty money really is. And during this pandemic, you may be asking yourself, "Can that cash give me COVID-19?"
Though we've learned more about COVID-19 and its transmission by way of surfaces, and we now know your chances of getting the virus from such surfaces is less common, there is still cause for concern.
"Just looking at money objectively – how it passes from hand to hand – tells us a whole lot about how dirty money is," explains Dr. Edmund Fernandez, family medicine physician at Aurora Health Center in Slinger, WI. "And a lot of the reason money is so filthy is because of the lack of hand hygiene of some of the people touching it."
A study from PLOS ONE found over 100 strains of bacteria on dollar bills circulating in New York City. Some of these bacteria are harmless, some are annoying (causing acne) and some are even harmful.
"Every time a person touches a bill, its porous nature causes germs to be harbored, and then they transfer to your hands from the bill, and vice versa," Dr. Fernandez says. "In a world where we're not even really shaking each other's' hands by way of greeting, touching cash can seem a little counterintuitive."
So how can you stay safe from the harmful germs and substances taking up residence on your bills and coins?
"Avoid touching your face, mouth, or eyes if you can avoid it, even if you haven't touched money," says Dr. Fernandez. "But also, I cannot stress enough the importance of washing your hands after touching cash and washing them again. If you don't have access to handwashing right away, disinfect your hands and any other surfaces you touched, like your wallet. Then, wash your hands as soon as possible. While your chances of catching COVID from money are less common, it's just a good, healthy habit to adopt."
Dr. Fernandez also recommends using gloves while at the grocery store and using a credit or debit card if appropriate.
You shouldn't let COVID-19 keep you from seeking the health care you need. Read how Advocate Aurora Health is taking additional steps to keep you safe with its Safe Care Promise.
Related Posts
Comments
About the Author
Carla Basiliere, health enews contributor, is a seasoned communications professional with over 15 years of experience in the health care industry. Carla has a BS degree in Mass Communications from the University of Minnesota Mankato. In her free time, Carla enjoys spending time outdoors with family and friends.