Cauliflower is so hot right now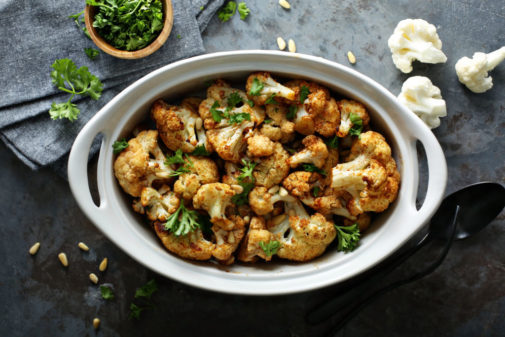 Kale is so last year.
Food trends come and go, and while kale has become crunchy punchline, it's a leafy green example of how our tastes at the table change with the times.
So, what's on the front burner?  Look to the veggies that are packed with flavor.
The hot list
Cauliflower, which took off in 2020, is still big due to the low-carb diet trend. It's packed with nutrients, antioxidants and is versatile. You can roast it, rice it, or even make cauliflower burgers.
While kale is still the champ, there are several new contenders that will vie for the spotlight:
Microgreens are the seedlings of vegetables and herbs that are harvested one to two weeks after germination. There are over 100 different kinds and they are super nutritious. Microgreens have 4 to 40 times more nutrients than mature-sized plants. Because they are tender, colorful and flavorful, they can be used in a variety of dishes. Add them as a garnish on soups, salads or sandwiches, blend it in a smoothie or add to sauces and dips.
Mushrooms gained traction in 2020 because of their ability to bolster immunity, so expect "mushroom mania" to take over. Mushrooms like maitake shiitake are a powerhouse of nutrients that contain adaptogens that help our bodies manage stress. Mushrooms are also full of umami, the fifth flavor profile that elevates the taste of many dishes. Reishi mushrooms will be found in extract form in coffee, tea, smoothies, broth, and protein bars.
Sauces from around the world are an easy and tasty was to jazz up home-cooked meals. Things like chimichurri, tomato achaar, Thai chili sauce, harissa, and zhug sauce (a spicier Middle Eastern version of pesto). Condiments often don't cost a lot and last a long time in the refrigerator.
More cooking and eating trends
Postbiotics are poised to break out. Postbiotics are the metabolites or end-products of fermentation by probiotics in the gut. They have anti-inflammatory and antioxidant properties and may also help strengthen the immune system. You can find them in foods that contain probiotics, but you'll also start seeing postbiotics being added to foods.
Virtual cooking classes are popular, and everybody from celebrity chefs like Rachael Ray and Top Chef University to local restaurants and grocery stores like Whole Foods have virtual cooking classes on the books. Some are geared towards couples, some to cooking with friends and others to cooking with kids.
Seek out foods you're not as familiar with. Whether you make it yourself from an online video or try a new takeout place, expand your culinary horizons!
Heather Klug is a registered dietitian with Aurora Health Care.
Related Posts
Comments
About the Author
Heather Klug, MEd RD is a registered dietitian and cardiac educator at the Karen Yontz Women's Cardiac Awareness Center inside Aurora St. Luke's Medical Center in Milwaukee, WI.