'The whole world looks better'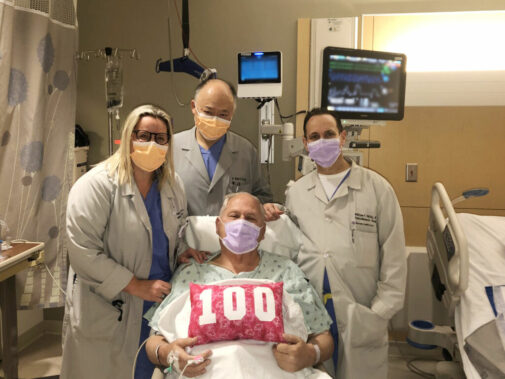 As 75-year-old John Schweisthal took routine tests ahead of a hip replacement, he received some news he wasn't expecting: The aortic valve in his heart was severely narrowed and needed to be replaced.
"I was afraid to do it and not to do it," Schweisthal said. "But I'll never forget when I spoke to the team at Sherman how comfortable they made me feel. It gave me such a huge feeling of relief knowing I could do something about it. The whole world looks better because I don't have to worry about this valve."
Schweisthal received the 100th transcatheter aortic valve replacement (TAVR) procedure at Advocate Sherman Hospital in Elgin, Ill. TAVR is a minimally invasive procedure used to treat valve and structural heart conditions, including severe narrowing of the valve known as aortic stenosis, without open heart surgery.
TAVR started as an option for patients who were at high risk for complications from open heart surgery. But in 2019, the U.S. Food and Drug Administration expanded access to low-risk patients, such as Schweisthal. TAVR has been shown to reduce complications and shorten hospital stays without compromising on quality.
Cardiovascular and thoracic surgeon Dr. William Polito and interventional cardiologist Dr. Richard Park performed the procedure in about an hour. They made two small incisions near Schweisthal's groin and positioned the new valve via a catheter.
"He could have had an open-heart procedure and he probably would have done quite well," Polito said. "However, there would have a been a longer recovery, more risks up front and a lot more stress and strain and time off from doing what he wants to do."
Once in place, the replacement valve expands and allows blood to flow freely. Schweisthal was able to go home the next day.
"Patients have a lot more options than they did before," Park said. "With a TAVR valve, he's up and walking and he's breathing better. He's going to recover much better for the hip surgery."
In addition to his hip replacement, Schweisthal is looking forward to playing with his grandchildren and walking his dogs.
"I'm excited just to enjoy life," Schweisthal said. "I feel like a million bucks. It's like the sky opened up."
Want to learn more about your risk for heart disease? Take a free online quiz to learn more.
Related Posts
Comments
About the Author
Katie Dahlstrom, health enews contributor, is a public affairs coordinator with Advocate Aurora Health. A storyteller at her core, she is a former newspaper reporter and spent nearly five years working as a public relations professional for Chicago's commuter rail agency, Metra. Outside of work, she enjoys birding, photography and spending time with her husband and dog.