'There is nothing you can't do as long as it makes you happy'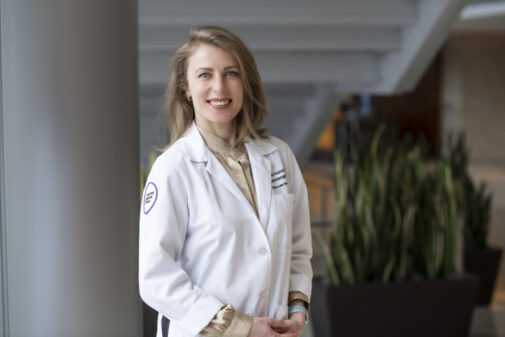 While the United States continues to address the gender gap within the medical field, Dr. Valentina Vasenina, neurosurgeon at Advocate Christ Medical Center, grew up in a country where females comprise 70% of physicians. Following two World Wars, the socio-political environment in Russia was one where women were equal to men, sharing high-risk, challenging jobs, including those which had only been for men across the globe. A couple of generations later, women comprised most physicians in Russia; Dr. Vasenina's mother, a primary care physician in the city of Chelyabinsk, Russia, (3.5 million population) being a prime example. 
"Growing up, my mom worked at one of the Russian hospitals taking calls and working two to three nights a week," says Dr. Vasenina. "My mom exposed us to medicine, the lifestyle of a physician, and instilled in us the importance of a college education. She would regularly say 'There is nothing you can't do as long as it makes you happy'." 
Dr. Vasenina studied international business in Russia then moved to the United States where she surprised her mom by deciding to pursue a medical degree.  
"My grandparents were a physicist and an engineer so I grew up liking math and science," says Dr. Vasenina. "In medical school, during my surgical rotations, I became very curious and interested in neurosurgery, thanks to one of the neurosurgeons on staff who was very kind to his patients and residents." 
Neurosurgical training can only be pursued in about 250 locations worldwide, making the training programs very competitive. Dr. Vasenina's talent qualified her to train at the University of Chicago Medical Center, where she completed her seven-year residency training in neurosurgery. In a field dominated by men, Dr. Vasenina says she did not face any discrimination. 
"In my experience there are people you connect to and others who are neutral about you being there," says Dr. Vasenina. "I have found my workplace very supportive of different genders, cultures and backgrounds, and my patients are not surprised that I am female, but more by my age." 
Dr. Vasenina believes one of the reasons some women shy away from the field is the perceived notion that a career in neurosurgery is too demanding. Women are concerned that they would have less control over their lifestyle and ability to have a family, but Dr. Vasenina believes it ultimately boils down to time management as is the case in most careers. She and her husband plan to have a family in the future, along with their two cats.  
Dr. Vasenina doesn't think of herself as a role model, but she is. In addition to the education she provides her team of physician assistants, residents and nurses, she encourages all those interested to pursue their goals and not shy away from dreaming big. She has mentored younger female neurosurgery residents in the Chicago area, who reach out to her for advice on work-life balance, handling stress at work and overall career advice. 
Through her career path choices and current work, Dr. Vasenina embodies a heritage of gender equality and paves the path for strong, like-minded women to a more equal future where everything is possible.   
Are you trying to find a doctor? Look here if you live in Illinois. Look here if you live in Wisconsin. 
Related Posts
Comments
About the Author
Jennifer Benson, health enews contributor, is coordinator of public affairs for Advocate Health Care and Aurora Health Care. She has 10+ years of community development and communication experience for non-profits and has a BA in Architecture from Judson University in Elgin, IL. Outside of work, you can find her planning the next adventure near water or rocks, re-organizing spaces, working on her Master's in Public Health, caring for her senior citizen cat, keeping to healthy moving and eating disciplines and growing green things wherever she can find room.