How long does it take to recover from a c-section?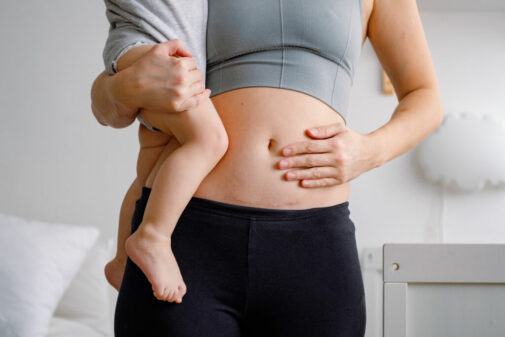 In the United States, about one in three babies are delivered by cesarean birth, also known as c-section, according to The American College of Obstetricians and Gynecologists.
During a c-section, a baby is delivered through incisions made in the belly and uterus. Like any major surgery, there is a recovery process, but with a c-section, a birthing parent not only needs to care for themselves, but also a new baby.
After returning home from the hospital, Dr. Brian Dobbins, an OBGYN at Aurora Baycare's Women's Center, says the birthing parent can expect to have some decreased mobility. He suggests having several meals planned or premade to help with the recovery process while adjusting to life with a new baby.
Dr. Dobbins also suggests the following to help with the recovery process at home:
A heating pad
Good nutrition
Rest and be willing to receive assistance from a loved one
Family or friends are helpful for recovery
"There is a lot of individual variation on pain people feel after surgeries. We have learned new techniques for reducing pain after an operation and treating pain in the last few years in an effort to reduce the need for prolonged narcotic use. Since deploying these lessons, we have found many patients that use little to no narcotics after their cesarean section."
That does not mean there is no pain, but Dr. Dobbins says that can be well controlled with medications like Tylenol and ibuprofen.
"Many people will use these routinely for five days after surgery and then move to using them as needed," Dr. Dobbins said.
Taking medications to prevent constipation after surgery can also reduce pain and discomfort, he says.
Activity can progressively increase in a commonsense matter following the c-section.
Dr. Dobbins says if there are any concerns on how the c-section is healing, patients should contact their doctor.
"There are higher risks for infections, and rare problems with cesarean delivery, so in general if something does not seem normal, we want our patient to message us or call."
Want to learn more about your risk for breast cancer? Take a free online quiz here.
Related Posts
Comments
About the Author
Brittany Lewis is a media relations coordinator at Advocate Health Care and Aurora Health Care. She previously worked as a reporter at TV stations around the Midwest, including Milwaukee. She studied at DePaul University where she majored in Journalism and Public Relations. Brittany enjoys traveling, hanging out by Lake Michigan, trying new restaurants and spending time with friends and family.