This genetic disorder leads to the progressive loss of muscle function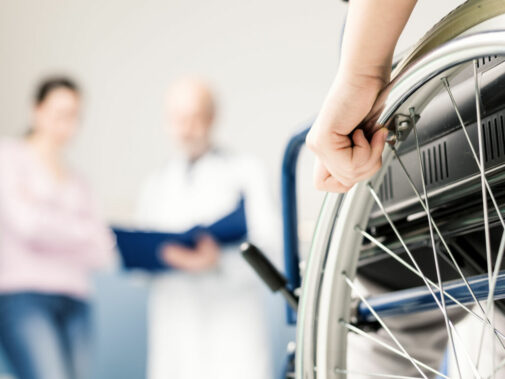 When a baby is born, a routine newborn screening is conducted, during which blood is collected from a baby's heel to detect certain genetic disorders. Among those disorders is spinal muscular atrophy, a condition that affects 1 in 10,000 babies, according to the Centers for Disease Control and Prevention. SMA is caused by a missing gene segment and insufficient survival motor neuron protein, which is needed for proper motor neuron function. Ultimately, the disorder leads to the progressive loss of muscle function.
"Patients with SMA face major challenges, including frequent doctor appointments and limited mobility," says Dr. Lauren Camarda, a pulmonologist at Advocate Children's Hospital. "They may require multiple pieces of medical equipment at home, including a wheelchair and other assistance for daily living. Families may face difficulties because of the high costs of SMA treatments as well as insurance barriers to treatment and other care needs. We do everything we can to help make things easier for children with SMA and their families through our multidisciplinary neuromuscular clinics."
The team of clinicians collaborate with colleagues within the institution as well as across the country to provide high-quality, patient-centered care. Patients are able to meet with specialists during a single visit, minimizing the number and frequency of trips to the doctor's office.
"We participate in the Cure SMA Care Center Network and are designated as a Care Center Network Site. We are able to collaborate with other leading SMA programs nationwide to share clinical experience and scientific ideas all targeted at advancing SMA care and improving patients' lives," explains Dr. Camarda. "This is a rich opportunity for our patients and care team to contribute to the ongoing understanding of the current state of SMA and to shape the future standards of care."
Dr. Camarda says the diagnostic and treatment landscape for patients with the genetic disorder has changed dramatically over the past decade.
"Children are being diagnosed at an earlier age. We have new treatment options. Patients' quality of life is improved. We're even seeing an increased survival rate, but there is still so much work to be done for patients with SMA. We are committed to that journey."
Are you trying to find a doctor? Look here if you live in Illinois. Look here if you live in Wisconsin. 
Related Posts
Comments
About the Author
Holly Brenza, health enews contributor, is a public affairs coordinator on the content team at Advocate Health Care and Aurora Health Care. She is a graduate of the University of Illinois at Chicago. In her free time, Holly enjoys reading, watching the White Sox and Blackhawks, playing with her dog, Bear and running her cats' Instagram account, @strangefurthings.