Is your sunscreen doing more harm than good?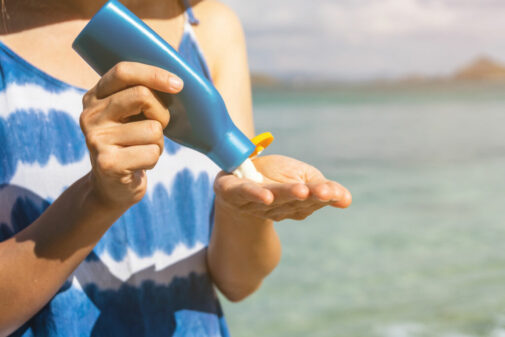 With so many sunscreen options available, it can be daunting trying to pick out a sunscreen that not only suits your skin type but also does not contain ingredients that will negatively impact your health.
A study found that the ingredients in chemical sunscreens are absorbed through the skin and into the bloodstream at amounts far above the Food and Drug Administration's (FDA) threshold of concern of 0.5ng/mL. The ingredients in chemical sunscreen were still detected up to three weeks later even after participants rinsed their skin.
Chemical sunscreens absorb into your skin so they can soak up the sun's damaging rays whereas physical/mineral sunscreens sit at the surface of your skin and reflect the sun's rays. Both types of sunscreen are commonly sold at popular retailers – so chances are, you probably have used both at least once in your lifetime.
"Chemical sunscreens often contain Oxybenzone/benzophenone-3, Avobenzone/benzophenone, Homosalate, Octinoxate, Octocrylene and Octisalate – all of which are endocrine disrupters," says Travis Hawks, sustainability specialist with Advocate Aurora Health. "Oxybenzone and octinoxate are not environmentally/reef friendly either." The sunscreen can come off of your body and into the water and kill coral reefs, sicken wildlife and end up in our drinking water.
When these ingredients enter your bloodstream, the chemicals can block or overstimulate hormone production. If your growth hormone becomes blocked, it can result in abnormal growth and development. When hormones are over-or under-stimulated, it can cause your thyroid to become over-or under-active. This can result in symptoms such as weight loss, weight gain, loss of hair and/or fatigue.
"Typically, the safest sunscreens for humans and the environment are physical/mineral sunscreen lotions as they do not absorb into your skin and get into your bloodstream," says Hawks. Mineral sunscreens often contain zinc oxide which is safer for your health and the environment.
At the end of the day, wearing any type of sunscreen is better than not wearing any at all when it comes to your skin health and preventing skin cancer.
Are you trying to find a doctor? Look here if you live in Illinois. Look here if you live in Wisconsin.
Related Posts
Comments
About the Author
Anna Kohler, health enews contributor, is a public affairs specialist for Advocate Health Care and Aurora Health Care. She received her Bachelor of Science in public relations from Illinois State University and has worked in healthcare public relations for over three years. In her free time, she enjoys working out, exploring new places with her friends and family and keeping up with the latest trends.