What is causing your knee pain?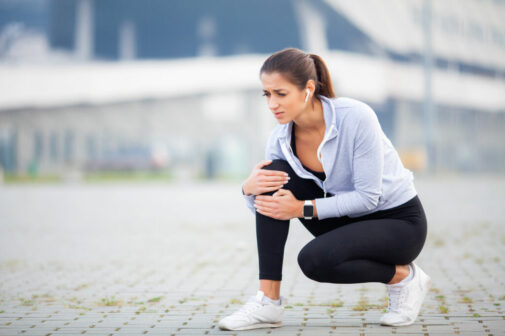 Osteoarthritis is a common problem that affects millions of people, often being considered wear and tear on joints. Osteoarthritis in the knee can make it difficult and painful to walk or climb stairs, but there are treatment options to help manage pain and help keep you active.
It may seem counterintuitive, but if you are dealing with knee pain from osteoarthritis, one of the best things you can do is to keep moving.
"Exercise isn't just good, it's crucial," Andrew Bidney, a physical therapist at Aurora Sinai Medical Center in Milwaukee, Wis., says. "Combating osteoarthritis does not require a formal exercise program, just increased activity. Find activities you enjoy and focus on making those a priority to combat the stiffness and discomfort from osteoarthritis."
Osteoarthritis, as it starts, can limit the range of motion in the knee, Bidney says. Walking has been shown to improve osteoarthritis pain. Other options include biking and swimming.
"One long walk per day is not required to gain improvements," Bidney says. "Short loops around the house on the hour can be just as effective as one long walk per day. Small changes in activity and improvements in range of motion can have a dramatic effect."
Stretching and strength training can also help limit the pain that can come with osteoarthritis. Strengthening should focus on the quadriceps, the muscle on the top of the thigh and other leg muscles.
Bidney recommends some exercises to help:
Quarter Wall Squats: Place feet one foot away from the wall. With your back against the wall, slide down the wall until your lower leg is perpendicular to the floor and hold for 10-20 seconds, increasing time as you progress. This exercise keeps the knee static while strengthening the quad.
Seated HS stretch: Sit on the edge of a sturdy chair and straighten the knee as much as possible with the heel in contact with the floor. Point your toes and hinge forward at the hips. Hold for 30 seconds. You should feel a low to moderate stretch in the back of the upper leg.
Bridges: Lie on your back with knees bent. Squeeze your glutes and raise your hips off the floor, hold for 5 seconds and slowly return your buttocks to the floor. This exercise strengthens the glutes and hamstrings.
If knee strengthening is too hard or uncomfortable, you can work on strengthening other leg muscles:
Clams: Lie on your side with your knees bent at a right angle. Your shoulders, hips and ankles should be in a straight line. Feet stay together, lift top knee to open your legs like a clamshell.
Bidney's additional tips are:
Stretch after activities, and ice if necessary.
Find the right level of activity to improve range of motion and discomfort, but not so much that it will increase your pain and swelling.
Work with a physical therapist to diagnose knee pain and create a treatment plan.
"When you notice you're hesitating to do an activity you previously wouldn't think twice about, it's time to reach out for help," Bidney says.
Are you worried about knee pain? Take a quick, free online assessment to learn more about knee and hip pain by clicking here.
Related Posts
Comments
About the Author
health enews staff is a group of experienced writers from our Advocate Health Care and Aurora Health Care sites, which also includes freelance or intern writers.