From Nigeria to Chicago, this doctor's experiences guide him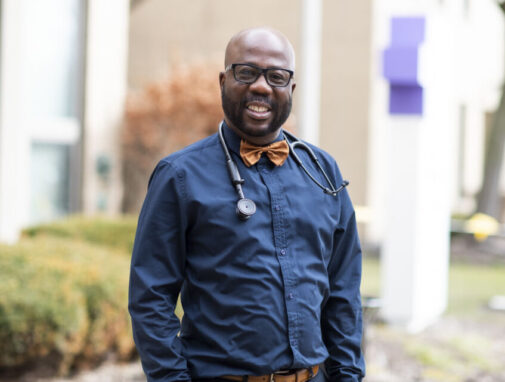 Growing up in Nigeria, Dr. Adebayo Bademosi remembers always wanting to be a doctor to make a difference in the disparities he saw in his country. Being in and out of the hospital as a child, he knew he could make an impact.  
"I remember being taken to the hospital with several bouts of malaria," Dr. Bademosi says. "The doctors thought I had sickle cell, but due to my family's health care background, they knew it was malaria."  
Dr. Bademosi's family included a prominent neurosurgeon in Saudi Arabia and doctors in Nigeria. He knew he was fortunate to have a family educated in health care and wanted to uphold that legacy.   
Coming to the United States after high school, Dr. Bademosi went to medical school and now is a family medicine doctor in the South Chicagoland area.  
"Working in this community is my way of giving back," says Dr. Bademosi. "I relate to my patients because I can tell them about my history and educate them so they can trust me and the medical field. I assure all my patients that I represent them."  
Dr. Bademosi felt family medicine was the field he could make the greatest impact. He believes in being part of each patient's family, taking care of them from birth and throughout life. When he sees a patient, it's not just a medical appointment; he chats with them about their family and learns every aspect of them – health, social and economic. 
Trust and relationship building is how Dr. Bademosi ensures his patients get the care they need. The people in the community already had rapport with him by the time COVID started. As a result, he was able to successfully educate them on the need and safety of vaccination and provided them shots. 
Dr. Bademosi is passionate about education being the key to care. Diet, exercise and the importance of mental health are among the many aspects of life he advocates. 
"I educate people to understand and identify the need for a primary care doctor," he says. "Everyone has a role to play to make a difference. I hope I'm making a difference to others and paying it forward." 
Read more Doctor's Day stories. 
Are you trying to find a doctor? Look here if you live in Illinois. Look here if you live in Wisconsin. 
Related Posts
Comments
About the Author
Amy Werdin, health enews contributor, is a provider public affairs coordinator with Advocate Health Care and Aurora Health Care. She has been with the organization for 19 years, starting out in marketing for Advanced Healthcare, then Aurora Health Care and now in her current role. She enjoys reading, movies and watching her two daughters dance and her son swim.