He wanted to tell his mother he loved her – and hopefully hear it back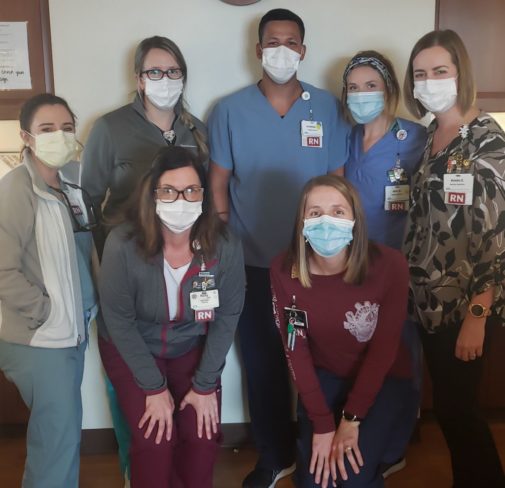 Saying goodbye to a loved one is always difficult. Not being able to say goodbye at all is heartbreaking.
For Barry Steinert, facilities manager at Aurora Medical Center Grafton, seeing his close friend go through this in late 2020 was excruciating.
His friend, Chad, lost his father to COVID-19 on November 27. Chad's dad lived in Indiana, and due to visitor restrictions and his dad's rapid decline, Chad was not able to see his dad before he passed.
All this occurred while Chad's mom living in Grafton also tested positive for COVID-19. She was soon admitted to Aurora Grafton's COVID ICU.
Just five days after his dad died, Chad's mom took a turn for the worse. Chad wanted to visit his mother in the hospital before going to Indiana for his dad's funeral.
"The thought of losing both parents in under a week is heartbreaking. But not being able to say goodbye to both of them is unimaginable," said Steinert.
So Steinert asked around. He connected with Kristin Hromada (photo, right), COVID unit supervisor, and Nancy Kellet, infection prevention nurse.
'What can we do to make this happen', he thought.
Following Advocate Aurora's COVID-19 safety protocols and visitation policy for end-of-life situations, Chad was able to see his mom the next day.
As Chad prepared to go into his mom's room, he knew that this was likely the last time that he would see her alive. He was shaking so hard that Hromada helped him put on his PPE and mask before entering the room. Fellow team members Meghan Lemke and Jonathan Haririe (photo, back center) also helped facilitate the meeting.
"Seeing him in this situation really took myself and our team back," said Hromada. "COVID has changed our world a lot, but it's still those little things that make a big difference."
After a short visit, Chad left his mom, disposed of the PPE, texted Steinert, and the two talked and walked back to Chad's car. He thanked the entire nursing team for their care and consideration. He also shared with Barry what it meant to be able to say goodbye.
"The one thing he wanted was to tell his mother he loved her and hopefully hear it back. He was able to do that," said Steinert.
The next day, December 4, Chad's mom passed away.
The pandemic has touched everybody, and to some, it has brought tremendous loss and sorrow. But in the darkness, there is also an inspirational light that brings families, friends and team members together for special memories that will last a lifetime.
"This meant the world to Chad," said Steiner. "Our team made sure it happened."
Click here for more stories about doctors, nurses and others working on the front lines.
Related Posts
Comments
About the Author
Matt Queen, health enews contributor, is a communication coordinator at Aurora Health Care in Milwaukee. He is a former TV sports anchor and journalist with extensive public relations experience across the health care spectrum. Outside of work, Matt enjoys watching sports (of course), cooking, gardening, golfing and spending time with his wife and two young children.