Can pools damage your skin?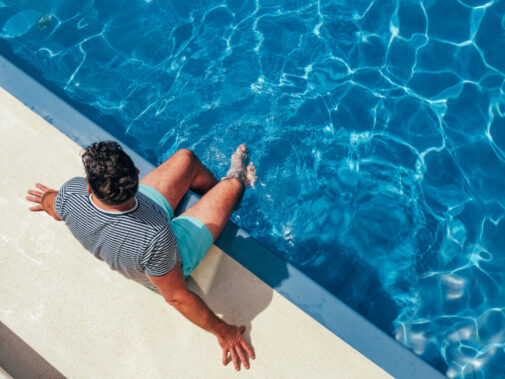 Summer means no school and carefree pool days with towels, sunscreen, and chlorine-filled water. While chlorine does a good job of keeping pools safe, it can be damaging to the skin.
So, what exactly is chlorine? Chlorine is a chemical and is the most common form of chemical sanitizer in pools and hot tubs. The chemicals in chlorine kill bacteria and microorganisms in water by oxidizing the cells so they become safe for swimmers. Saltwater chlorination is also used as a water disinfectant and according to the manufacturer, is kinder to the skin and eyes.
While chlorine can help keep you safe, it can also have harmful effects on the skin.
"Ultimately chlorine negatively affects the skin like any other chemical: it is an irritant," says Dr. Daniel Opel, licensed dermatologist at Aurora Medical Center – Sheboygan County. "For patients predisposed to skin conditions where the barrier may be broken – like eczema, acne or psoriasis – it may cause redness, burning or itching."
If you feel your skin drying out faster than usual, feeling tight or stretched, and in some cases becoming red, itchy, and inflamed, then you may be having a negative reaction to the chlorinated water.
While anyone can experience a reaction, chlorine can be most harmful to those with existing skin conditions.
"Chlorine can definitely exacerbate existing skin conditions like eczema and acne," says Dr. Opel. "It does so by drying out the skin and in some cases causing irritant dermatitis."
However, Dr. Opel notes that not everyone will experience the same degree of irritation, as both acne and eczema are very individual conditions. In general, if you think you have "sensitive skin" then you should be cautious around chlorinated pools.
According to Dr. Opel, here are ways to keep your skin safe around chlorine:
Avoid swimming if your eczema is flaring or infected. This means that the skin barrier is broken and will be more susceptible to flares.
Before swimming, apply your usual moisturizer to the affected areas so that it acts as an effective barrier to the water. If you have eczema, consider using zinc oxide or titanium dioxide – as they sit on the skin and are not absorbed. If swimming outside, don't forget to apply waterproof sun protection – SPF 30 or above!
After swimming, shower off to remove chlorinated water and pat dry. Be aware that some pool showers may use chlorinated pool water, so it may be better to shower at home. Add your usual barrier cream or moisturizer to the skin afterwards.
Are you trying to find a doctor? Look here if you live in Illinois. Look here if you live in Wisconsin.
Related Posts
Comments
About the Author
Margaret Weiner is a senior at Marquette University studying public relations, corporate communications and business administration with a concentration in communication leadership