Tips for a pain-free summer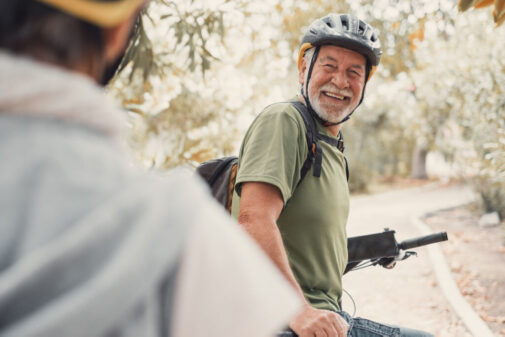 Warmer weather, longer days, vacations, festivals and gatherings ­­– all these happenings contribute to a more active lifestyle during the summer months. We welcome the opportunity to move, socialize, engage with nature and grow stronger through the season. But for people with chronic pain, increased activity can cause their condition to flare up. Overexertion can threaten pain management setbacks and create a longer recovery time which can take weeks out of your summer plans.
Dr. Alexandra Lelchuk, pain management physician at Aurora Medical Center – Kenosha, explains, "You don't want to let your pain stop you from enjoying the season, but it's important to know your limits. Be aware of how your body feels. Be comfortable saying no to an activity if you feel like it's going to aggravate your pain," says Dr. Lelchuk. "Make your health a top priority so you can keep doing the things that bring you joy."
Dr. Lelchuk offers these practical pain management tips for common summer activities:
Hiking/Camping – "For people with chronic pain, carrying heavy backpacks and equipment for a prolonged period should be avoided. Find an alternative method for your gear or take shorter hikes. Prepare with hip strengthening exercises such as bridges and lateral raises. Don't forget the basics – bug spray, hydration, comfortable footwear and a proper air mattress if camping overnight to avoid back problems."
Biking – "Make sure the bike is adjusted to your height to avoid compromise of biomechanics. Stand intermittently. Wear your helmet and put lotion under clothes to prevent chafing."
Gardening – "Avoid repetitive bending motions and use a proper lifting technique. Don't compromise biomechanics – use tools that offset lifting heavy gardening supplies. I recommend knee pads or cushions for everyone; they make a big difference. Plan your gardening time to include frequent breaks. It may take longer to get the job done, but you will feel better throughout the growing season!"
Swimming – "Being in the water is a great way for people with chronic pain to get soothing, therapeutic exercise without straining joints and muscles. But you still need to warm up before swimming, especially the rotator cuff and scapular muscles. One trick to avoid repetitive motion injury is to simply switch up your stroke. Cross-training with weights also is a great help for swimmers."
Boating/Canoeing – "If fishing, minimize repetitive motion. Use equipment to ease motion strain and use lumbar support, stretching and proper footwear if standing. Try to have comfortable seating available for breaks and relaxation.
Picnics – "Use a cushion — it's a simple idea, but most people don't' think about it. Get up and stretch frequently. Bring lumbar support for seating when possible."
Outdoor concerts – "Bring on the music, but don't stand for long periods – walk around and sit when you can. Wear proper footwear and consider compression stockings for any event where you know you'll be standing."
Summer nights – "While the days are long, it's more important than ever to get a good night's sleep – six to eight hours, if possible."
This is common-sense advice you should follow all year long.
"Keep stress levels to a minimum. Avoid overheating. Maintain good hydration and eat a nutritious, anti-inflammatory diet. Limit alcohol intake," Dr. Lelchuk says. "Take medications as prescribed and get clearance from your doctor before taking on high-intensity activity. If your pain worsens, see a pain management specialist. Make health your top priority and enjoy the summer!"
Do you have hip or knee pain? Take a free online quiz to learn more.
Related Posts
Comments
About the Author
Annette Guye-Kordus is a public affairs coordinator with Advocate Health Care and Aurora Health Care.