Are you picking the right nut butter?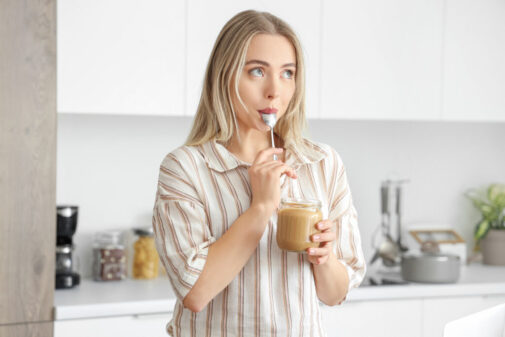 It takes up a whole section in the grocery store; shelves filled with nut butter of different varieties. While the large selection can be daunting, each nut butter holds its own unique flavor profile and health benefits.
Mallory Storrs, a registered dietitian at Advocate Christ Medical Center in Oak Lawn, Ill., provides insight into the different types of nut butter and their unique qualities.
Almond Butter
Fans would describe almond butter as having a nuttier flavor compared to traditional peanut butter. This nut butter is high in vitamin E which boosts skin health and contains anti-aging agents.
Cashew Butter
This variety is naturally sweet tasting mixed with a mild nutty flavor. This iron-rich nut butter supports a healthy immune system, reduces fatigue, increases hemoglobin levels and helps transport oxygen around the body. Cashew butter has the lowest amount of fat and protein compared to its counterparts.
Peanut Butter
The original of nut butters. Do we need to say more? Peanut butter is naturally the highest in protein. It is also rich in iron and folate, an essential vitamin for producing red and white blood cells in bone marrow.
Sunflower Seed Butter
Also known as sunbutter, this option has a mild nutty flavor but isn't exceptionally sweet tasting. It's a great alternative for individuals with tree nut allergies. Sunflower seed butter is also a great source of protein, vitamin E and magnesium. Magnesium supports healthy sleep patterns, promotes bowel regularity and is vital for every cell in your body.
Hazelnut Butter
This is a great option if you enjoy a delicious and rich tasting nut butter. Hazelnut butter can be mixed with dark chocolate or cocoa for sweetness. This option is loaded with healthy monounsaturated fats and vitamin E, making it beneficial for skin health.
Storrs provides additional insight on how to pick the best quality nut butters.
"I would recommend choosing nut butters without added ingredients," says Storrs. "When looking at the label, choose a product with less ingredients. Many nut butters will contain added sugars, vegetable oil or preservatives."
No matter which option you pick, they all are a great source of minerals, vitamins and nutrients and can easily be added to your everyday diet. Keep in mind that nut butters are naturally calorically dense, meaning they are around 90 calories per tablespoon. A small amount will go a long way when spreading on toast or crackers. But the extra fiber and protein will help you feel satisfied and full.
"Nut butters are versatile and can be added to a variety of food items," says Storrs. "It can be used as a spread on bread, tortillas and crackers. You can also try mixing it into smoothies or yogurt, using nut butter as a dip for fruits and vegetables, or you can simply eat it directly off the spoon!"
Are you trying to watch your weight? Take a free online quiz to learn more about your healthy weight range here.
Related Posts
Comments
About the Author
health enews staff is a group of experienced writers from our Advocate Health Care and Aurora Health Care sites, which also includes freelance or intern writers.