What's in your breakfast on the go?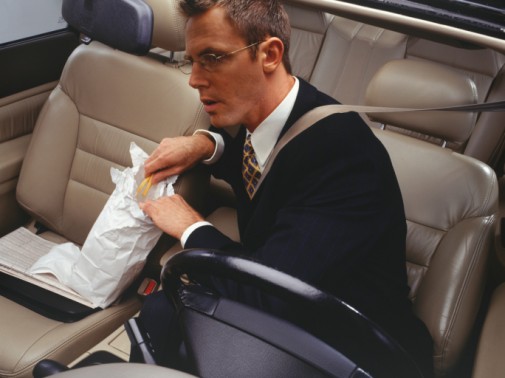 In today's busy world, when the word "fast" has taken on a whole new meaning, like "now," it's easy to see why we end up eating fast foods for breakfast that nutrition experts say are often bad for our health.
In fact, a number of recent studies show that eating a healthy breakfast can give you just the right boost you need to ensure you have a pretty good day. According to data, the right morning meal can provide you with a nutritionally complete meal that is higher in much needed nutrients, minerals and vitamins.
This can lead to better weight control, improved concentration and performance from the classroom to the boardroom. That's why nutrition expert Jaclyn Sprague, who practices on the campus of Advocate Illinois Masonic Medical Center in Chicago, says it's important to get breakfast right.
"Breakfast may be the most important meal of the day, but it is also the one we have the least time for," she says. "Skipping breakfast is not the answer, nor is grabbing a doughnut or calorie-ridden bagel."
Sprague also says there are some slimming benefits to eating the right breakfast as well. "Breakfast can jump start your metabolism, stabilize your energy levels and mood."
She says if you absolutely have to make a pit stop at one of the nation's many fast food chains, be sure to choose from the healthy options on the menu.
"Most chains offer at least one or two healthier items, and that's what I encourage my patients to fuel up on," she says. "It certainly makes a huge difference that most of my patients can feel right away."
Differences like staying fuller longer and having much more energy throughout the morning.
To help you plan your next breakfast on the go, here's a look some of the worst and best options:
WORST BREAKFAST CHOICES  
Hot cakes and sausage-Although this tastes great, it'll weigh you down. I mean really down, with about 1,090 calories, 56 grams of fat and 19 grams of saturated fat. This single meal alone will put you very close to the daily limit for unhealthy fat in your diet.
Sausage and biscuit- Yummy, but loaded with saturated fat, and if you are picking it up from your favorite fast food chain, it's likely packed with preservatives and salt to the tune of 2,150 mg of sodium, nearly the daily limit with each biscuit.  
Breakfast burrito- Well, it depends on what you get inside. If you opt for the steak and egg burrito with salsa, eggs, cheese and a side of hash browns from your local fast food chain, you are likely getting a morning meal filled with 821 calories, 50 grams of fat and 15 grams of saturated fat. And salt, about 1,544 mg.
Vanilla bean Frappuccino-Sounds delightful, and it's just a drink, right? But with whole milk and whipped crème, this beverage will have you swallowing 400 calories. And if you drink one of these every day, you've added enough calories to your diet to gain nearly one pound per week.
And it's not just the vanilla bean flavor that's packed with calories. Be careful of the calorie count for just about all frappuccinos, especially if the name includes mocha, chocolate or caramel. Sprague says you should drink these as often as you'd eat dessert — every now and then. If you just can't cut back, at least pass on the whip cream, and ask for soy milk instead of whole milk. That could save about 130 calories.
BEST BREAKFAST OPTIONS  
Breakfast salad- Yes, you can—and should—eat salad for breakfast. Mix spinach, arugula and other leafy greens with strawberries, chopped apples and raisins. Then drizzle balsamic vinegar mixed with honey and voila! You've got a healthy, filling breakfast that also helps you get in the daily requirements for vegetables. Add pecans for healthy fats, which can help you feel fuller.
Greek yogurt- It's the latest craze, and there's a good reason why. The protein found in non-fat greek yogurt can rival most protein drinks. With at least 15 to 20 grams per servings, Sprague says 1 cup is a great way to enjoy a healthy and filling breakfast. Top it off with your favorite berries and a little granola to make your own parfait.
Old-fashioned eggs-Yes, grandma had it right. Two eggs — whether scrambled, poached or boiled — give our bodies at least 12 grams of protein for a mere 140 calories as well as low amounts of saturated fat. The high amount of protein and the modest fat count can make you feel fuller longer than eating a high-carb breakfast. Plus, eggs contain nutrients like choline, which can prevent breast cancer, and lutein, which keeps the eyes healthy.
To learn more about healthy food options for lunch and dinner and to get the latest scoop on the most popular fad diets, tune in to the next edition of AdvocateLive, featuring nutritionist, Jaclyn Sprague on Friday, April 5 at 11:30 a.m.
Related Posts
Comments
About the Author
health enews staff is a group of experienced writers from our Advocate Health Care and Aurora Health Care sites, which also includes freelance or intern writers.