Angina may signal a more serious condition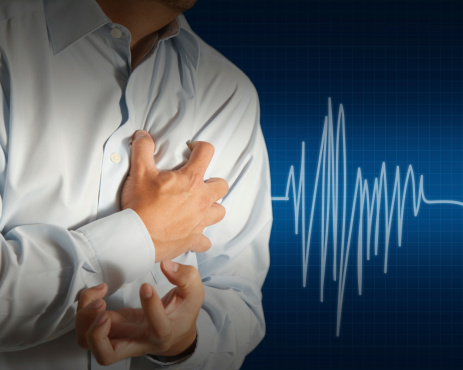 Imagine you find yourself in a hospital emergency room complaining of chest pain and believing this is the "big one." For many patients, they may find that it's not a major heart attack, but actually a warning sign called angina.
Angina is discomfort or pain in the chest that happens when not enough oxygen-enriched blood reaches the muscles of the heart. Angina is a signal that the heart muscle is not getting sufficient blood flow and oxygen.
Angina is not a disease, but a symptom of a more serious condition, usually coronary heart disease, says Dr. Ajay Parikh, cardiologist on staff at Advocate South Suburban Hospital in Hazel Crest, Ill. 
He says that, typically, angina occurs with physical exertion or strong emotional reactions, and subsides with rest. Starting immediately behind the sternum (breast bone), the pain may radiate to the left arm and shoulder or up to the jaw or upper back, Dr. Parikh says. Many times it is associated with shortness of breath and diaphoresis.
"Most people describe the pain as a kind of squeezing pressure, tightness or heaviness," Dr. Parikh says. "These symptoms are similar to heart attack symptoms. In patients who are having a heart attack, symptoms do not subside with rest."
Dr. Parikh says that patients with this condition may require interventions to clear blocked arteries, allow sufficient oxygen into the blood flow and alleviate the angina. For many patients medication or lifestyle changes may be enough, he says. But for some it may require an angioplasty. Angioplasty is one of the most common procedures used to restore blood flow to the heart. 
"The angioplasty procedure involves guiding a tiny balloon to a blocked artery supplying the heart," Dr. Parikh says. "The balloon is then inflated and clears the blockage to restore blood flow. The procedure usually includes placement of a metal stent to hold the artery open."
According the American College of Cardiology, angioplasty might be performed if you:
Are having a heart attack.
Have frequent or severe chest pain (angina) that is not responding to medicine and lifestyle changes.
Have evidence of severely reduced blood flow (ischemia) to an area of heart muscle caused by one or more narrowed coronary arteries.
Have a narrowed or blocked artery that is likely to be treated successfully with angioplasty.
Are in good enough health to have the procedure.
According to the American Heart Association, some of the benefits of an angioplasty include:
Greatly increases blood flow through the blocked artery.
Decreases chest pain (angina).
Increases ability for physical activity.
Reduces risk of a heart attack. May improve strength of heart muscle and hence prevents heart failure.
Can also be used to open neck and brain arteries to help prevent stroke.
Dr. Parikh says that angioplasty won't prevent a heart attack or prolong a person's life. It is widely used to treat angina and improve the quality of life of the patient. It does not prevent development of new plaque or blockage, he says. He urges that patients still need to make lifestyle changes and consult their physician for additional medical needs.
"Your heart is not cured," he says. "What has been done is a mending of the heart."
"If patients do not make changes necessary to their diet, exercise and medical regime, they will run a higher risk of more problems in the future," Dr. Parikh says. "Those that make the necessary changes with the angioplasty can slow down the progression of heart disease."
Related Posts
Comments
About the Author
health enews staff is a group of experienced writers from our Advocate Health Care and Aurora Health Care sites, which also includes freelance or intern writers.