Boost your butt and lift your neck?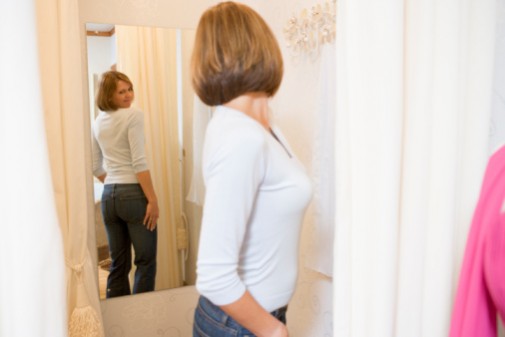 Bigger butt? Less wrinkles? Smaller Nose? No more neck sagging? These are just a few of the most popular body woes that people took to cosmetic surgery to improve last year.
The American Society of Plastic Surgeons' (ASPS) recent report found that there were more than 13 million minimally invasive procedures done, along with 1.7 million cosmetic surgeries performed in the U.S. last year. These numbers are up 3 percent since 2012.
Some of the most common cosmetic surgery procedures included: breast augmentation, rhinoplasty, eyelid surgery, liposuction and facelifts. The report noted an increase of 2 percent in reconstructive surgeries and 4 percent for breast reconstructions.
But the two most surprising increases in the report were butt augmentations with fat grafting, up 16 percent, and neck lifts, up 6 percent from the prior year.
Dr. Niki Christopoulos, board certified plastic surgeon with Advocate Medical Group in Oak Lawn and Chicago, says that the demand for these plastic surgery procedures is strong and continues to rise.
"The neck, like the eyes, is one of the first areas to show one's age," she says. "Patients do not want loose sagging neck skin and now new technologies offer skin tightening with less downtime." 
With celebrities like Kim Kardashian and others endorsing larger butts in the media spotlight, Dr. Christopoulos is not surprised by this increase.
"Buttock augmentation with fat grafting is a procedure where liposuction is performed on other areas of the body, typically abdomen, thighs and flanks, and then injected into the buttocks," she says. "This procedure has seen an incredible surge over the last few years, probably in some part due to the significant attention certain celebrity bottoms have received."
The ASPS also attributes part of this increase due to the approval of several new plastic surgery devices by the Food and Drug Administration in 2013. 
"The demand for plastic surgery remains strong, with our statistics showing increases in both cosmetic surgical and minimally-invasive procedures," said Dr. Robert X. Murphy, ASPS president in an online statement. "Facial rejuvenation procedures were especially robust last year, with more Americans opting for facelifts, forehead lifts, eyelid surgery, fillers and peels. With new devices and products hitting the market each year, there are more options and choices available to consumers wanting to refresh their look or a little nip and tuck."
Related Posts
Comments
About the Author
Sarah Scroggins, health enews contributor, is the director of social media at Advocate Aurora Health. She has a BA and MA in Communications. When not on social media, she loves reading a good book (or audiobook), watching the latest Netflix series and teaching a college night class.