Can sitting for too long increase your risk for cancer?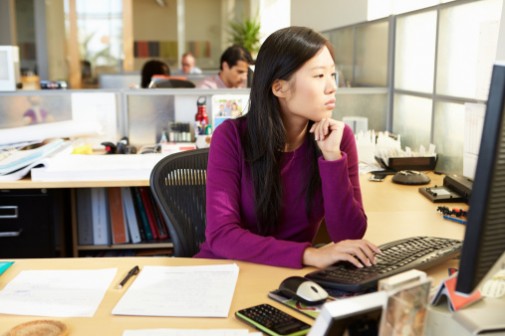 It's well known that being stuck behind a desk all day can be detrimental to your health by increasing the risk of chronic diseases such as obesity, diabetes, metabolic syndrome and cardiovascular disease. But, new research shows that sitting for several hours every day gives us something else to worry about.
According to research published in the Journal of the National Cancer Institute, sitting for several hours every day could increase your risk for several types of cancers.
Researchers looked at data from 43 observational studies and found each two hour per day increase in sedentary time, including TV viewing and occupational sitting time, was related to an eight percent increase for colon cancer risk and a ten percent increase for endometrial cancer risk. The research also showed a positive relationship between high sedentary behavior and lung cancer.
Fortunately, sitting for long periods was not associated with a higher risk of breast, rectal, ovarian, prostate, stomach, esophagus, testicular and kidney cancers, or non-Hodgkin lymphoma.
Researchers say the data is unrelated to how much exercise a person gets each day.  This means even individuals who try to counteract the negative effects of a long day of sitting behind a desk with an intense workout after work may still be increasing their cancer risk.
However, Dr. Vineet Dandekar and Dr. Maciej Malinski, cardiologists with Advocate Medical Group,say short bursts of activity to break up sedentary time throughout the day can be helpful in reversing the effects of sitting for long periods.
According to the Centers for Disease Control and Prevention (CDC), adults aged 18-65 should do 150 minutes of moderate-intensity aerobic exercise each week, such as brisk walking, in addition to two or more days each week of muscle-strengthening activities to work all the major muscle groups. The CDC says breaking up daily exercise into smaller chunks of about 10 minutes is perfectly acceptable as long as a moderate-intensity level is reached.
The American Heart Association has these tips to help increase physical activity during the work day:
Have brainstorming sessions with a co-worker while taking a walk
Walk while taking business calls
Stand while talking on the phone
Take a walk to visit co-workers instead of calling or emailing them
Walk or bike to work
Use a standing height desk if your company allows it
Walk or use on-site fitness centers during lunch and other breaks during the day
Take the stairs instead of the elevator, or use the elevator for some floors and use the stairs for the rest
Start an intramural sports team
Schedule exercise on a business calendar instead of a personal calendar and treat it like other business appointments
"Everyone knows that they should exercise more, but not everyone is familiar with the notion of 'sitting less,'" Dr. Dandekar says. "We've been told that 30 minutes of daily exercise is enough activity for the day, but this study suggests this is not necessarily the case. 'Sitting less' is a novel concept and one that we'll continue to hear more about."
Related Posts
Comments
About the Author
health enews staff is a group of experienced writers from our Advocate Aurora Health sites, which also includes freelance or intern writers.