3D mammography proves highly effective in detecting breast cancer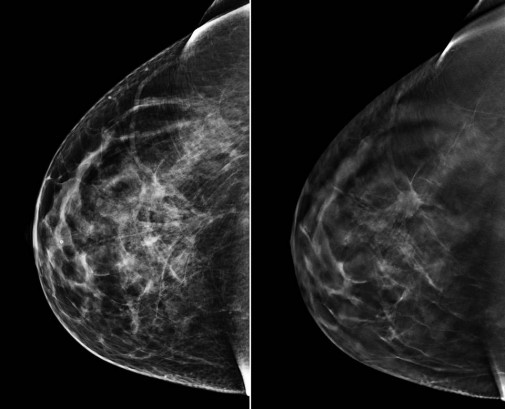 A study just released in JAMA, The Journal of the American Medical Association, has found that 3D mammography is more effective in detecting lethal breast cancer in women, than traditional mammography.  The lead author of the research is Dr. Sarah Friedewald, co-medical director of the Caldwell Breast Center at Advocate Lutheran General Hospital in Park Ridge, Ill.
The largest study of its kind to date, the researchers reviewed the mammograms of nearly a half million women at 13 different health care facilities across the United States. What they found is that 3D mammography finds significantly more invasive or lethal cancers—41 percent more, than a traditional mammogram. According to the study's results, 3D mammography also reduces the number of women called back for unnecessary screenings due to false alarms. That reduces anxiety, as well as health care costs.
"We believe this study is groundbreaking because of the sheer number of mammograms we reviewed, "says Dr. Friedewald. "Because it is ten times larger than other studies to date, and because the data came from both academic and community health care settings, we think it tells a compelling story about the effectiveness of 3D mammography."
Women will see little difference in the 3D mammography exam. It takes just a few seconds longer than traditional 2D mammography. What radiologists see in the image is significantly different. Like the pages of a book, it allows the physicians to see through the layers of the breast and diagnose potential problems more quickly.
"The Caldwell Breast Center at Lutheran General Hospital was the first in the Midwest to purchase 3D mammography," adds Dr. Friedewald. "All of our patients have the opportunity to receive 3D exams because we believe the technology is saving lives."
Advocate Lutheran General Hospital was one of thirteen health care organizations participating in the study. Others include breast imaging programs at Massachusetts General Hospital in Boston, the University of Pennsylvania in Philadelphia, University Hospitals Case Medical Center in Cleveland and the Yale University School of Medicine in New Haven.
Photo from Advocate Lutheran General Hospital. Left photo is of a traditional 2D mammogram and on the right is a 3D tomosynthesis.
Related Posts
Comments
About the Author
Mickey Ramirez, health enews contributor, is the director of Brand Services. He enjoys kimchi, honesty and a room with a view. He claims to not be a writer, but he occasionally learns information that is just too important to keep to himself.