Nurses on the frontlines of care in Chicago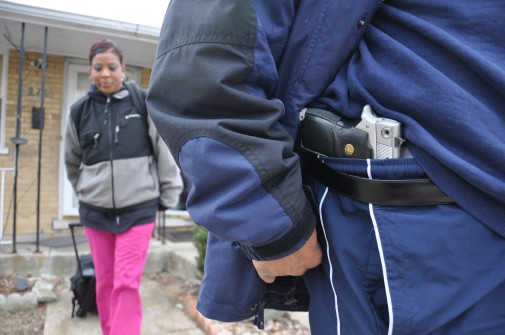 Forty-year-old Atundra Horne has spent the last year and a half working as a home health nurse. She grew up in Englewood, one of Chicago's toughest neighborhoods, and is no stranger to gun violence.
But after moving out years ago, Horne says she never thought she would end up back in her old neighborhood, risking her life daily to provide health care.
"Don't get me wrong, I love what I do," says Horne, who works for Advocate Health Care. "It's just become more dangerous lately."
Five days a week without fail, Horne hits the streets of some the city's toughest areas to get vital care to those who need it.
As part of her work for Advocate at Home, Horne provides home health in the South Side enclaves of Roseland, Englewood and Auburn Gresham. Of Chicago's 77 community areas, those three neighborhoods rank among the top 12 for violent crime.
"I see all kinds of patients, including teens that are often gun violence victims," she said. "We also see middle-aged adults and seniors. These people need our care and services like everyone else. They can't help what neighborhood they live in."
Chicago continues to struggle with gun violence and remains in the national spotlight.
Because of the rise in gun violence in Chicago, Horne no longer travels alone to see her patients.
"We have security officers who are assigned to go with us," she said. "It's an extra service provided by Advocate to ensure we stay safe."
Her security detail includes off-duty firemen, police officers and retired officers. "Many of us have become good friends," Horne said. "The officers don't actually go into the homes with us while we provide care. They stand watch outside to make sure we get in and out of the homes and neighborhoods unharmed."
Horne and her colleagues have witnessed drug deals and robberies while on the job. "I've also heard shots fired while I have been in a patient's home providing care."
Despite that, she stays focused on her work.
"If I really sat back and thought about how dangerous things are, it would likely bother me," she said. "But I understand how important it is that our patients get the care they need, the care they deserve, and I plan to do this for as long as they need me."
Horne's commitment is both personal and professional. Her mother still lives in Englewood, which makes her work even more meaningful.
"Right now I don't have any desire to work inside a hospital. I feel like I am right where I need to be."
Related Posts
Comments
About the Author
health enews staff is a group of experienced writers from our Advocate Aurora Health sites, which also includes freelance or intern writers.