How clutter messes with your health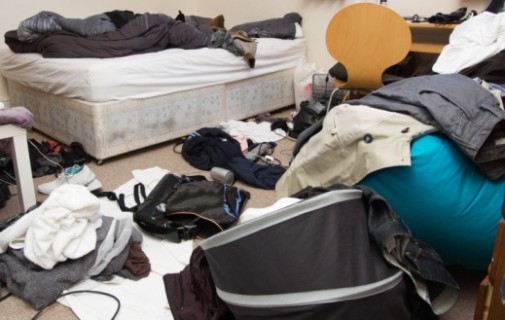 For people who have missed a payment because the bill was lost on their desk, have a hard time walking through their living room because of all the piles, or have to deal with bad allergies or asthma, it may be time to examine the amount of stuff they own.
Clutter has many negative side effects, experts say. Those include stress, fatigue and illness, as well as an increased risk of safety hazards.
"When you live with clutter, you are subconsciously reminded of work that needs to be finished and visually, your eyes do not have a place to rest," says Dr. Rian Rowles, a psychiatrist affiliated with Advocate Christ Medical Center in Oak Lawn, Ill.  "Too much clutter can cause tremendous stress and fatigue. When things take longer to find, or can't be found, stress levels rise and so does your risk for illness."
In addition to being a cause of stress and fatigue, accumulating clutter in areas where people have carpeting, upholstery or bedding, or in areas that are naturally damp such as basements and garages, can also worsen allergies and asthma.
Dust mites, pet dander and mold lurk in clutter, which can trigger allergic reactions, decrease air quality and increase potential asthma problems, says Dr. Uma Gavani, an allergy and asthma specialist on staff at Christ Medical Center.
"The more stuff you have in your home, the harder it is to clean," Dr. Gavani says. "That increases the potential for dust, pet dander and mold to accumulate in closets, on surfaces and in crevices."
Additionally, too much clutter is also a safety hazard.
"Falls and fires are two leading causes of injuries and deaths inside the home," says Gary Bettenhausen, Bureau Chief of EMS from the Oak Lawn Fire Department. "Tripping over clutter can cause head injuries and broken and sprained limbs, which can result in a trip the hospital emergency room."
Anything that blocks doorways and hallways is also a fire hazard.
"Clutter can easily hasten the spread of fire and hinder your ability to escape or to be rescued," Bettenhausen says.
Reduce the amount of clutter in the home or office with a good spring cleaning – by decluttering and organizing.
If the job is too overwhelming, ask for help from family and friends, or hire a professional organizer.
Related Posts
Comments
About the Author
Kate Eller was a regional director of public affairs and marketing operations for Advocate Health Care. She enjoys road trips, dogs, minimalism, yoga, hiking, and "urban hiking."