Are hoverboards high-tech fun or an accident waiting to happen?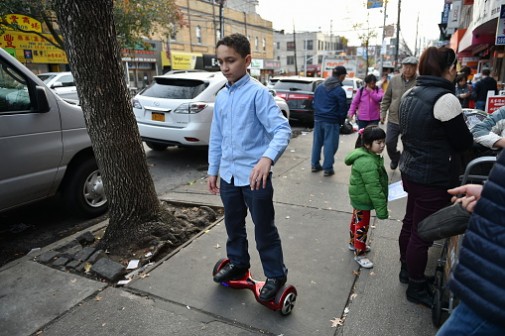 Social media has been buzzing about famous athletes wiping out on this year's must-have gadget – the hoverboard.
While essentially surfing on land looks easy and fun, the injuries sustained from falling off a hoverboard are sending people to the emergency room.
"The hottest gift this past holiday season seems to be giving more grief than joy with the growing number of injuries from riders losing their balance and falling awkwardly," says Dr. Steven Chudik, orthopedic surgeon and sports medicine specialist at Advocate Good Samaritan Hospital in Downers Grove, Ill. "According to the U.S. Consumer Product Safety Commission, in just the first three days after Christmas, there were more than 70 reports of emergency room visits because of hoverboard injuries. Those were primarily from falls and collisions."
Hoverboards require the rider to balance themselves on a thin board while applying pressure through his or her feet to accelerate, decelerate and turn the device. They can accelerate very quickly, which can cause riders to lose their balance and injure themselves. The most common injuries include hand, wrist and elbow sprains and fractures as the rider attempts to use their arms to break their fall.
"Although designed and built for children, we're seeing more and more adults thinking they can just get on a hoverboard and go," Dr. Chudik says. "That just is not the case. Riders need to have good balance because there are no handles and they can reach speeds up to 12 miles per hour."
Dr. Chudik recommends riders take the same injury-prevention precautions as they would when they ride a bike, in-line skate or skateboard.
"Minimally that means wearing a certified helmet, knee and elbow pads and wrist guards," he says. "And to start, they should have a spotter on each side to steady or catch the rider if they fall."
Dr. Chudik also offers the following tips to prevent injury:
Do not ride in the street or on busy sidewalks.
Go slow and ride on even, smooth surfaces. Even a slight bump can throw off balance and may abruptly stop or change the direction of the hoverboard.
There are no safety guidelines or regulations currently in place for operating and using hoverboards, so take precaution and ride smart.
"Serious head and back injuries have already occurred because riders do not have a lot of experience or acquired skills," Dr. Chudik says. "Therefore, it is important to ride at your ability level and pay attention to what you are doing while riding. Do not talk on the phone, take photos or videos, or let someone else ride along with you."
Reports of hoverboards catching fire while charging, in addition to the amount of injuries sustained by using them, have prompted the U.S. Consumer Product Safety Commission to open an investigation on the device.
Related Posts
Comments
About the Author
Johnna Kelly, healthe news contributor, is a manager of public affairs and marketing at Advocate Christ Medical Center in Oak Lawn. She is a former newspaper reporter and spent nearly 10 years as a public relations professional working for state and county government. During her time as a communications staffer for the Illinois General Assembly, she was integral in drafting and passing legislation creating Andrea's Law, the nation's first murderer registry. In her spare time, she volunteers at a local homeless shelter, enjoys traveling, photography and watching the Chicago Bulls.