Why you can't keep off the weight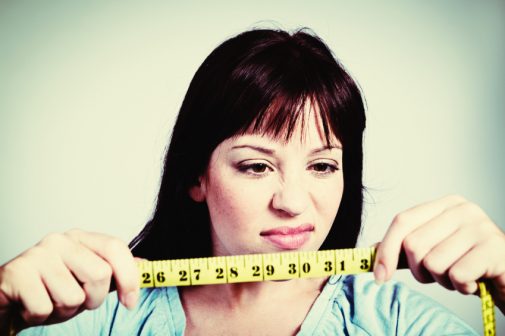 Anyone who has ever lost weight knows that lost pounds often return. No matter how hard you try, they seem to find a way to creep back on.
A new study explains that your body's physiology might be to blame. Your body, researchers say, and specifically your metabolism, which influences how many calories you burn when resting, fights back against weight loss.
For six years, Dr. Kevin Hall of the National Institute of Diabetes and Kidney Diseases followed 14 contestants from Season 8 of NBC's reality television show "The Biggest Loser." He found that almost all of them regained much if not all the weight they lost. Some are heavier now than when they first appeared on the show.
The reality show contestants lost large amounts of weight with intensive dieting and exercise. Danny Cahill, the Season 8 winner, lost 239 pounds in seven months. He weighed just 191 pounds, down from 430. However, he has since gained back more than 100 pounds. Sean Algaier, who dropped from 444 pounds to 289 on the show, has since rebounded to 450 pounds.
Researchers found that the contestants' metabolisms – which dropped as expected when they lost the weight – never recovered and continued to slow even as the years went by and pounds trickled back on, leading the contestants to regain weight even more quickly. Cahill's metabolism slowed so much that, just to maintain his current weight of 295 pounds, he now has to eat 800 calories a day less than a typical man his size. Anything more than that turns to fat.
This happens to anyone who loses weight – you will have a slower metabolism when the diet ends, whether you're trying to lose 100 or 10 pounds.
There is always a weight your body maintains without any effort, and that's the weight your body always wants to get back to.
Slower metabolisms were not the only reason the contestants regained weight. Leptin, a hormone which controls hunger, plays a role, too. When its levels fall, you become hungry.
The contestants started out with normal levels of leptin. By the season's finale, they had almost no leptin at all. As their weight returned, their leptin levels went up, but only to about half of what they had been when the season began. This is how the researchers explain their urges to eat.
"The body puts multiple mechanisms in place to get you back to your weight. The only way to maintain weight loss is to be hungry all the time," said Dr. Joseph Proietto of the University of Melbourne, in a press release, who measured leptin and other hormones in a different study.
Dr. Meena Malhotra, a board certified obesity medicine physician specializing in weight loss at Advocate Lutheran General Hospital in Park Ridge, Ill., disagrees with Dr. Proietto and believes that being hungry by counting calories is what leads to binge eating when the dam breaks as the resolve weakens. "The 'Biggest Loser' participants would have had better results over the long-term if the incentive was "Feel like a million bucks every day!" rather than "Win a million bucks," she says. She adds that starving leads to starvation mode, drop in muscle mass and thus, poorer body composition.
"This is a common problem with programs focused on calorie counting, and using body weight as a measure of success," says Dr. Malhotra. "The secret of long-term success is to focus balanced nutrition rather than calorie counting, and using fat loss and improved body composition as a measure of success."
To avoid this see-saw battle of resolve and weight loss and gain, and in order to achieve long term weight loss, she recommends:
Focusing on improving body composition and balancing your nutrition.
Consuming good proteins, including legumes and hormone free animal products.
Eating good fats, such as nuts, seeds, avocado and olive oil, as well as veggies and complex carbs, including whole grain, fruits and starchy vegetables. The proportion of complex carbs should be increased as you begin to reach your optimal body composition.
Related Posts
Comments
About the Author
Sonja Vojcic, health enews contributor, is a marketing manager at Advocate Health Care in Downers Grove, Ill. She has several years of international public relations and marketing experience with a Master's degree in Communications from DePaul University. In her free time, Sonja enjoys spending time with her family, travelling, and keeping up with the latest health news and fashion trends.