From sleepless nights to a widowmaker heart attack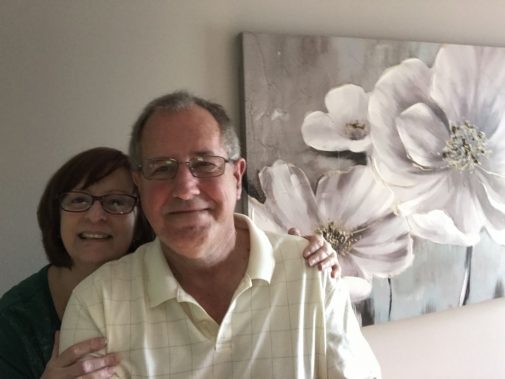 For Gerald Griffin, going to bed used to be a scary thing.
"Every time I would lay down to go to sleep, I'd think, 'Will tonight be the night I stop breathing and don't wake up?'" Gerald says.
He was diagnosed with sleep apnea in early 2005.
Prior to his diagnosis, he would wake up multiple times in the middle of the night, unsure what was wrong.
"It felt like I was dying sometimes," he recalls. "I kept thinking, 'What is wrong with me?' because it felt like I was having panic attacks in my sleep. I can recall close to a dozen times waking up thinking I was dying."
And exhaustion was just part of his everyday normal.
"I was constantly tired," he says. "Oftentimes, halfway through the day, I'd climb into the back of my truck to take a nap."
And so Gerald sought help.
A sleep study confirmed what he had long started to suspect – he had sleep apnea.
"Sleep apnea is a disorder that causes one's breathing to be interrupted during sleep," says Dr. Yelena Tumashova, a sleep specialist at Advocate Lutheran General Hospital in Park Ridge, Ill. "This disruption typically occurs 5-15 times an hour for mild cases, 15-30 times an hour for moderate cases and more than 30 times an hour over the course of a single night's rest for severe cases. It's a relatively common condition, with one in 15 adults affected. And in Gerald's case, the disruption was so severe, he knew something was wrong. But that's not always the case."
His doctors prescribed a Continuous Positive Airway Pressure (CPAP) machine to treat the problem. But for Gerald, this treatment option was not the answer.
"I couldn't tolerate the mask at all," he says. "It was so uncomfortable that I can count on one hand the number of times I was able to keep it on for the whole night. I even tried different masks, but it just wasn't a feasible option, so I stopped using it pretty early on."
But in 2014, everything changed for Gerald.
"I remember I was doing yardwork, and I started to feel this tightness in my chest," he recalls. "My wife called 911. The doctors say I'm lucky to be alive."
Gerald had a heart attack often referred to as a ''widowmaker.' He had a 100 percent blockage of the LAD artery, one of three arteries that supplies blood to the heart. Often, these blockages can be fatal.
He recalls his doctors explaining that sleep apnea had been linked to heart problems along with other conditions.
"One reason it is so important to diagnose individuals with sleep apnea and get them proper treatment is the condition is linked to cardiovascular disease, hypertension, cognitive impairment and type 2 diabetes," says Dr. Tumashova. "Whether Gerald's case was a result of his sleep apnea is unclear, but I think the heart attack was a wake-up call."
And so when Gerald recovered and heard a radio ad for a new innovative treatment for sleep apnea, he knew he needed to learn more.
The Inspire technology is a small, fully implanted device that senses breathing patterns and delivers mild and painless stimulation to keep the airways open during sleep. The system consists of three implanted components, which include a small generator, a breathing sensor lead and a stimulation lead, all which are controlled by a small, handheld sleep remote.
"The remote allows you to turn the device on before bed and turn it off when you wake up, as well as control the settings to increase or decrease the stimulation when necessary," explains Dr. Tumashova. "Gerald qualified for the innovative therapy because he had severe sleep apnea and had tried the CPAP machine with negative results."
The device is implanted during an outpatient surgical procedure and requires a short recovery time.
But Gerald knew this was the treatment option for him.
"I had the device surgically implanted in January. It was turned on at the end of February, and already, I feel so much better," he says. "I don't get up as often at night, and I've noticed I feel rested during the day."
The biggest change?
"I'm not anxious and scared every night before bed!" he exclaims. "I feel like a different person with this huge weight lifted off me. You can't imagine how good it feels to not be anxious before bed. I simply turn on this device when I'm ready to go to sleep, and my anxiety is gone. It's a scary thing to not know what's going to happen when you fall asleep."
Related Posts
Comments
About the Author
Jacqueline Hughes is a former manager, media relations at Advocate Aurora Health. Previously, she was the public affairs and marketing manager at Advocate Lutheran General Hospital in Park Ridge, IL. She earned her BA in psychology at Stanford University in Palo Alto, California. Jackie has 10 plus years experience working in television and media and most recently worked at NBC 5 in Chicago. In her free time, she enjoys swimming, going to the movies and spending time with her family.