Could your diet impact the age you start menopause?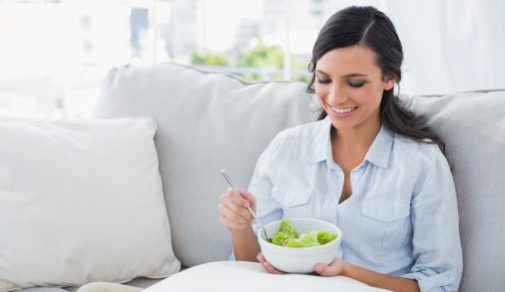 It's an inevitable part of being a woman, and while it doesn't necessarily have a medical purpose, it's part of the aging process.
It normally occurs when a woman is between 45 and 55 years old, but some experience symptoms later and others earlier. What is it?
It's menopause. It's long been known that certain factors can affect when a woman enters menopause, but can lifestyle choices like diet and exercise affect the age of onset?
Researchers sought to determine the answer.
The research, published in the Journal of Epidemiology & Community Health, surveyed 35,000 British women all between the ages of 40 and 65. Researchers asked them questions about their eating habits and tracked 40 percent of those surveyed for four years. Interestingly, the researchers found an association between women who ate a lot of refined carbohydrates and an earlier start to menopause. On the other hand, women whose diets were heavy in fish and legumes tended to enter menopause at an older age.
The research found that on average, the women followed started menopause around the age of 51. The impact of eating refined carbs? For every additional portion of carbs each day, they found women, on average, started menopause a year and a half earlier.
While experts find the study interesting, they say much more research is necessary to come to any firm conclusions that may contribute to patient care.
"There are many limitations to the study that are worth noting," says Dr. Dalia Davood, an OB/GYN with Advocate Medial Group Obstetrics & Gynecology at Lutheran General Hospital in Park Ridge, Ill. "The study follows a cohort of women from a specific location and ethnicity. It would be difficult to generalize to other ethnicities and locations, as studies have shown that various ethnic groups experience menopause or symptoms associated with menopause at different times. Additionally, many other factors can contribute to menopause or symptoms associated with it like a higher BMI or a person's smoking status. The study doesn't account for other factors, but simply looked at the participant's diet."
In addition, the researchers even cautioned that the study does not prove cause and effect, but merely found an association between food intake and menopause onset.
Moral of the story?
"While I personally have not seen a link between a woman's diet and when she enters menopause, that doesn't mean there isn't a link," says Dr. Davood. "There simply needs to be further research before a conclusion can be made."
Factors that Dr. Davood has seen associated with an earlier menopause onset include:
Genetic factors
Metabolic factors such as galactosemia
Iatrogenic factors like surgery, chemo and radiation
Autoimmune factors like Thyroid disease and Rheumatoid arthritis
Possible viral and environmental causes like HIV, mumps and smoking
"While I do not recommend certain diets – as all patients are different and may not adhere or respond to diets in the same way – I do encourage a healthy, well balanced diet with moderate exercise to all my patients," says Dr. Davood.
Experiencing symptoms? Dr. Davood recommends all women discuss any issues they are having with their physician.
"Menopause is so different for every patient; it's difficult to generalize who is going to go through menopause earlier or later and what symptoms they may experience," she says. "Even symptom management can be different patient by patient."
Related Posts
Comments
About the Author
Jacqueline Hughes is a former manager, media relations at Advocate Aurora Health. Previously, she was the public affairs and marketing manager at Advocate Lutheran General Hospital in Park Ridge, IL. She earned her BA in psychology at Stanford University in Palo Alto, California. Jackie has 10 plus years experience working in television and media and most recently worked at NBC 5 in Chicago. In her free time, she enjoys swimming, going to the movies and spending time with her family.