8 tips for eating healthier while dining out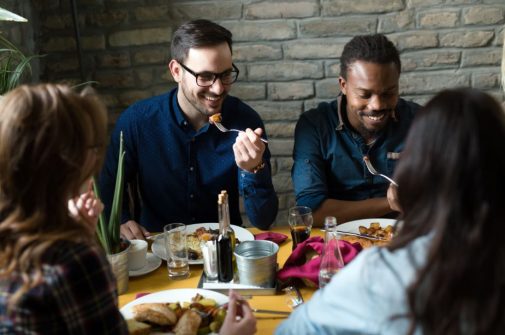 Eating healthy at restaurants can be tough. Here are a few tips you may want to try.
1) The art of replacement: Replace high-starch sides with low-starch sides. Most restaurants give you multiple vegetable options. Recently, when dining out, my meal came with potatoes. I just switched them for brussel sprouts, which were browned, halved and cooked in a pan with coconut oil, onions, salt and pepper. Simply say no to starchy sides like rice, corn, potatoes, sweet peas, pasta, acorn or butternut squash, beets and plantains.
2) Low-carb appetizers: Shrimp cocktail, shrimp wrapped in bacon or a cheese plate can start your meal off right.
3) Avoid the bread: The meal I mentioned before came with cornbread, which we simply avoided completely. This may be the hardest part about going low-carb, but sacrificing the bread will allow you to avoid 25-30 carbs on the typical bread side. Keep in mind: most people will have more than one piece, doubling that the carb total to 50.
4) Eat a salad: Either as a side to replace a starchy vegetable or before the main entree comes, salads help fill you up while adding the leafy greens you'll need to stay healthy. When I travel and need to eat at McDonald's, I will order a bunless burger with a side salad. Make sure to use dressings which are fatty based in olive oil, if possible. I sometimes keep olive oil with me to avoid cheaper restaurant oils, which are not always as healthy.
5) Lettuce wrap your sandwich: Some restaurants will lettuce wrap your sandwiches or tacos, even when it's not mentioned on the menu. By doing this, you eliminate the biggest source of carbs (bread).
6) Condiments: Ketchup usually contains added fructose, so consider mustard instead.
7) Drinks: Choose water, sparkling water tea or coffee without adding sugar. When it comes to alcohol, there are many low-carb options. Just search Google for low-carb alcohol. The many options may surprise you. Many wines, in spite of the fact that they are made with grapes, can be low-carb. Many beers have low-carb options, as well (Michelob Ultra Light has 2.6 carbs).
8) Pass on the dessert: By the time you eat the typical meal, you probably won't be hungry anyway. If you insist, share with the table to minimize the impact. We sometimes order berries with cream to fulfill our appetite for dessert.
Are you trying to watch your weight? Take a free, quick online assessment to learn more about your healthy weight range by clicking here.
Dr. Tony Hampton, MD, MBA, CPE is Advocate Operating System Medical Director at Advocate Health Care. He currently works for Advocate Medical Group (AMG) as a family medicine physician, medical director, chair of AMG's Health Outcomes Committee and Vice Chair of the Governing Council. 
Related Posts
Comments
About the Author
Dr. Tony Hampton, MBA, CPE is Board Certified in Obesity Medicine and Family Medicine. He currently is the physician lead for Advocate's Healthy Living Program as well as Regional Medical Director for the South Region of Advocate's Medical Group. He is an inspirational public speaker, blogger, coach, and has authored a book entitled Fix Your Diet, Fix Your Diabetes. He has led multiple programs and works with AdvocateAurora to coach patients on their journey to achieve their health care goals by balancing nutrition, exercise, stress reduction, increased sleep, and needed medical interventions. He believes that a shift is needed in healthcare where we all work together focus on prevention and wellness. He is married and a father of two college-aged boys.