The Rolling Stones' Keith Richards said he quit smoking. That means you can, too.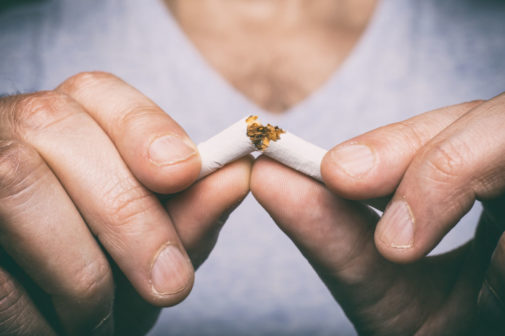 Legendary Rolling Stones guitarist Keith Richards has quit smoking at age 76, kicking a decades-long habit and giving smokers everywhere a little hope in the process.
Because if an aging rock star for whom smoking was iconic can give up cigarettes, you can, too.
"I've given up smoking…since October," Richards told a New York radio station. "Done that, been there."
Of course, it's not easy. Richards said last year that quitting cigarettes was tougher than stopping heroin use. But after front man Mick Jagger's heart surgery last year, Richards smoking quit ahead of the band's upcoming U.S. tour to help ensure they could soldier on.
"The number one thing I ask my patients when we are talking about smoking cessation is 'Are you ready to quit?,'" says Jennifer Aversano, an oncology nurse navigator based at Advocate Lutheran General Hospital in Park Ridge, IL.  "Obviously even looking at Keith Richards, he may have never wanted to quit, but when he was concerned about it slowing him down, it sounds like he was ready and able to do it. Family and friends need to remember this is an addiction like anything else, and people have to want to quit. Nobody can really make them."
Aversano says her patients often follow the Respiratory Health Association's "Courage to Quit" program, a 7-week process that includes understanding why you smoke and understanding what happens after you quit.
Being in the right frame of mind is critical.
"The biggest piece of advice I give patients when they are getting ready to quit is to be kind to themselves," says Annie Lally, a lung nurse navigator based at Advocate Illinois Masonic Medical Center in Chicago. "Historically shaming smokers has been an acceptable method of encouraging them to quit, but positive encouragement reinforces good behaviors and choices without the shame."
Learn more about your risk for lung cancer by taking a free online quiz.
Looking for help? Find a doctor if you live in Illinois. Or find one if you live in Wisconsin.
Read more:
Related Posts
Comments
About the Author
Mike Riopell, health enews contributor, is a media relations coordinator with Advocate Aurora Health. He previously worked as a reporter and editor covering politics and government for the Chicago Tribune, Daily Herald and Bloomington Pantagraph, among others. He enjoys bicycles, home repair, flannel shirts and being outside.