Health care heroes: Best friends on the front lines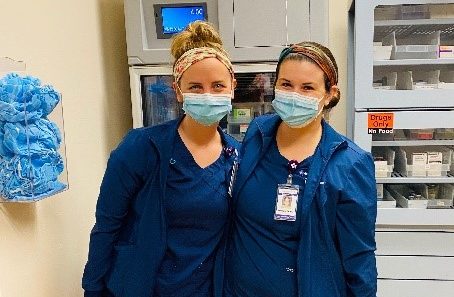 Danielle Mago and Kylee Weidner are oncology infusion nurses with Advocate Medical Group in Crystal Lake, IL. They both have newborns and they even live on the same street. They have so much in common that it may seem like they are best friends – and that's because they are.
For nearly ten years, Danielle and Kylee have been inseparable. And now, they are facing one of the largest global health crises their lifetime may ever see – together.
As chemo-certified nurses, Danielle and Kylee are used to caring for the most vulnerable of patients. They care for countless cancer fighters each day, patients who rely on their support and attention like their lives depend on it, because it does.
COVID-19 has changed nearly every aspect of their day-to-day, and rightfully so, as the patients they see regularly are largely high-risk and immunocompromised for illnesses as simple as the common cold or seasonal flu.
In an effort to limit exposure, there are less infusion nurses on the floor, making for busier days. Extra screenings, for both team members and patients, are now standard before even stepping foot in the treatment area. And with hospital's no-visitor policy, patients are left to face what already is a very isolating experience alone.
What remains the same is the high-quality care and emotional support they provide. Many patients would find it impossible to get through treatment without them. I can attest to that because I was one of them.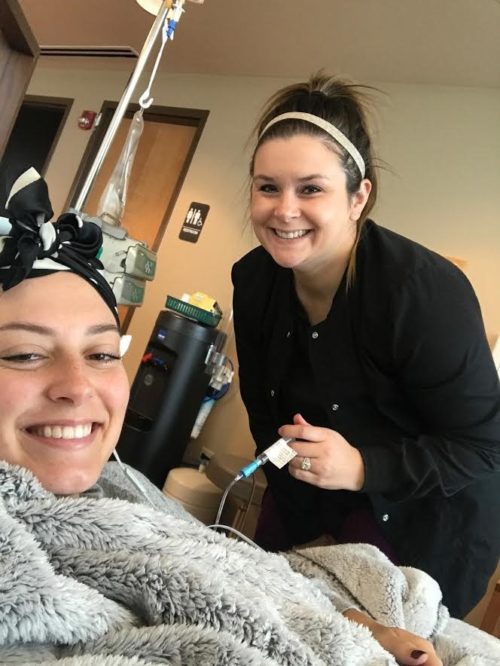 "Our patients are fighting for their lives each day," Kylee says. "Knowing that I was able to bring a smile to their face or give them hope in a fearful time makes me so proud of what I do."
Related Posts
Comments
About the Author
Kelsey Sopchyk, health enews contributor, is a media relations coordinator at Advocate Aurora Health. She earned her BA in journalism and mass communications from the University of Iowa. In her spare time, you can find Kelsey tending to her plant children, trying new sushi restaurants in Chicago and cheering on the Cubs.