Health care heroes: The wind beneath this hero's wings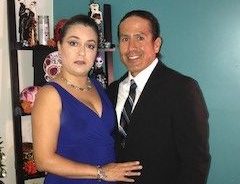 Most front line doctors, nurses and team members don't know construction worker Juan Garcia. Fewer patients know him. In fact, his role in fighting COVID-19 goes largely unnoticed.
But in these times of COVID-19, Juan plays a major role in keeping everyone safe at Advocate South Suburban Hospital in Hazel Crest, IL. Married to the hospital's Infection Preventionist Imelda Garcia, RN, Juan has been spending Illinois' mandated shelter-in-place period serving as the wind beneath his wife's proverbial wings.
"I am the smallest department with one of the biggest responsibilities," Imelda says. "Knowing that I can just give him a look and he can tell what kind of day I've had, and either give me some time to decompress or give me that oh-so-needed hug – no words needed – keeps me going."
As an infection preventionist, Imelda educates hospital staff about the novel coronavirus, how it's spread and what steps doctors, nurses and team members should take to minimize the virus' spread.  Imelda routinely visits hospital departments to ensure caregivers are wearing personal protective equipment appropriately. She works with the Environmental Services team to ensure they follow the latest safety protocols when cleaning rooms and is involved in minimizing cross contaminations in the hospital's ventilation and water systems. She also monitors the hospitalizations and discharges of patients diagnosed with or suspected of having COVID-19.
Because she and Juan are a team, Imelda says she doesn't have to worry much about home life these days. This means she can focus completely on what she needs to do at work.
"Since I've been working a lot, Juan tries to take my mind off of things. He is very funny and goofy," Imelda says, adding that once, in lieu of giving her flowers, Juan used his construction tools to make a structural replica of the coronavirus – which Imelda took to the hospital and used as an educational tool.
"Otherwise, he brings me coffee while I'm on the computer or on conference calls when I'm working from home." And when Imelda goes to the hospital, "We elbow bump a lot as he walks me to my care in the mornings."
Why does Juan take such an active interest in supporting Imelda's heroic work?
"I do it because I love her," Juan says.
Juan and Imelda will celebrate their 24th wedding anniversary in August. They have 3 children – a sophomore in college and twins who are seniors in high school.
Related Posts
Comments
About the Author
Cassie Richardson, health enews contributor, is regional coordinator on Advocate Aurora Health's Public Affairs team. She has more than 10 years of experience in health care communications, marketing, media and public relations. Cassie is a fan of musical theater and movies. When she's not spreading the word about health and wellness advancements, she enjoys writing fiction.