Health care heroes: Having a baby during a pandemic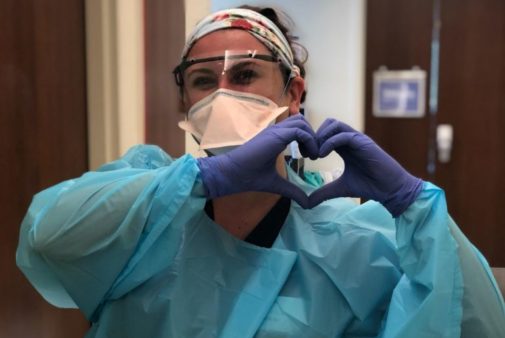 No one ever expected to be giving birth during a pandemic. But the reality of childbirth since March has looked much different than it has in the past. Anxiety around COVID-19, mandatory testing, restricting visitors and separation from a newborn baby if mom tests positive for COVID.
"While expectant mothers and families are excited to welcome a new baby, there is always some anxiety and fear about giving birth and parenting, which is very natural. Delivering during a global pandemic is only adding to their concerns,
says Melissa Sheeran, manager of clinical operations for the postpartum unit.
Melissa and her team have worked tirelessly, collaborating with families, nurses, team members, obstetricians, pediatricians and neonatologists to create the safest, most caring and understanding environment under extraordinary times.
"We've been able to put moms' fears and worries at ease with the measures we have in place to keep them safe," Melissa explains. "We've had a positive response from our patients, who have told us they felt safe and well cared for."
Melissa acknowledges that while many mothers envisioned a different birthing experience than what they are faced with now, they've found giving birth to be more intimate, allowing more time to bond with their new baby without the worry of visitors coming and going.
"We do understand the importance of family, so our family has assisted patients with arranging virtual visits so siblings, grandparents, aunts and uncles can welcome their new family member."
The postpartum staff, in partnership with Advocate Children's Hospital's child life specialists, have been collecting books so moms who are unable to room with their newborns can read to them through virtual visits to promote bonding and nurturing.
But Melissa says that's not all.
"Not only has the postpartum team gone above and beyond to ensure our patients are safe and well cared for, but they also raised more than $11,000 to support our fellow health care heroes. The team used this money to make baskets filled with gift cards, snacks, toiletries and other self-care items that promote relaxation and wellness. The baskets were distributed to various departments."
Related Posts
Comments
About the Author
Holly Brenza, health enews contributor, is the public affairs coordinator at Advocate Children's Hospital. She is a graduate of the University of Illinois at Chicago. In her free time, Holly enjoys reading, watching the White Sox and Blackhawks, playing with her dog, Bear and running her cats' Instagram account, @strangefurthings.