Nurse's care brings light to the darkness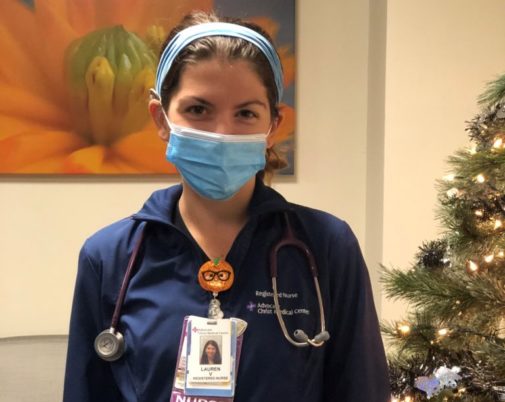 For Lauren Vari, a registered nurse on the trauma/medical surgical unit at Advocate Christ Medical Center in Oak Lawn, IL, using technology to help families see and talk to their loved ones who are sick with COVID-19 has been among the most meaningful work she's ever done. She helps families use Zoom to communicate with patients as in-person visits are restricted to slow the pandemic's spread.
One of the most heartbreaking reunions she helped facilitate was for a patient who had been hospitalized for a very long time and was rapidly declining. Knowing how badly the patient's daughter wanted to see her father, Vari stayed after her shift to make sure the virtual reunion happened.
"My patient was not able to communicate through speech, but as soon as he saw his daughter appear on the screen, he completely lit up," said Vari, who has worked on the unit for two years. "It was really emotional for me to watch, but I was able to witness this beautiful moment between a father and daughter. Less than 24 hours later, my patient passed away. It broke my heart that I was not able to save his life, but knowing I was able to reunite him with his daughter one last time was the light in the darkness for me."
Her motivation comes from helping her patients in any way that she can, which includes connecting them with their loved ones despite the barriers that COVID-19 has presented.
"It's been much harder to interact with patients, but there's been no difference in the care I provide," Vari said. "Seeing my patients improve, whether it's their physical or mental health or both, really puts a smile on my face."
Through the joy and sadness of these reunions, Lauren says the families that use virtual visits are grateful for the opportunities it provides them, and while she finds working on a trauma unit and caring for COVID patients to be an extremely difficult job, she wants people to know there's a way to help control the spread of the virus: wear a mask, wash your hands and practice social distancing.
"Just because you're not on the front lines, you still make a difference," she said. "We need everyone's support and teamwork in battling this pandemic. Every person plays a role. We are still in this together and we'll get through this together."
Related Posts
Comments
About the Author
Latoya Campbell, health enews contributor, is a Public Affairs Coordinator at Advocate Health Care and Aurora Health Care. She has a BS degree in Communications/Broadcast Journalism from the University of Illinois Urbana-Champaign and previously worked in digital and graphic marketing for a public library. She enjoys spending time with her family and friends, fitness activities and a good spa day.