'We'll always care for our patients – no matter how hard it gets'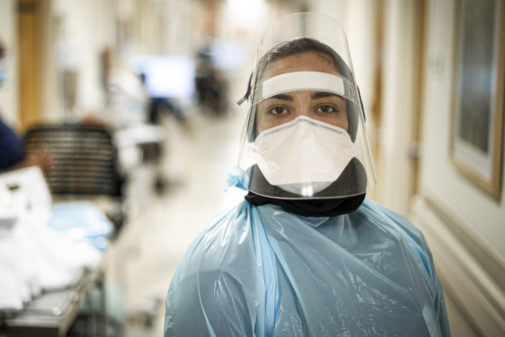 Nurses and other frontline clinicians provide a lifeline to families of COVID-19 patients who are unable to sit beside their loved ones because of hospital visitor restrictions.
They connect families and patients via video visits and communicate directly with patients' families over the phone. But among families for whom English is not their native language, communication presents a challenge.
Such was the case recently at Advocate Christ Medical Center in Oak Lawn. Fortunately, trauma nurse Abrar Ouri is fluent in Arabic and was able to provide comprehensive care updates to an Arabic-speaking patient and her family in their native language – helping put them at ease.
"This patient, who only spoke Arabic, was on oxygen for several weeks," Ouri said. "Her family would call me two or three times an hour because she couldn't use the phone and call on her own."
Abrar got the idea to set up Zoom calls with the family while she was feeding her patient. That way they could get the whole family together and she could help them communicate while she was caring for their loved one.
"They would cry and apologize for calling all the time, but I said it was OK," Ouri said. "If it was my family member and I couldn't be with them, I'd feel the exact same way."
After a few weeks, the patient finally began to get better.
The nature of COVID-19 has changed Ouri's job a lot. It has always involved some emotional counseling for patients and their families, especially ones who are critically ill. But with visitor restrictions, Ouri and her fellow nurses are taking on the role of caregiver in very personal ways.
Seeing the impact she has on patients like the Arabic-speaking woman, and their families, is what motivates Ouri to keep going. As health care systems prepare for a long winter with continued spread, Ouri and other nurses are ready.
"It's important for everyone to know that no matter what's thrown at us, we'll always do our job and care for our patients," she said. "No matter how hard it gets."
Related Posts
Comments
About the Author
Tami Hughes is a public affairs coordinator for Advocate Aurora Health. She attended college at the University of Miami and loves watching her Hurricanes play just about anything. She enjoys cooking and going to concerts with her husband. Her heart is made happy by her children, Neenah and Jack, and her dog child, Rizzo.